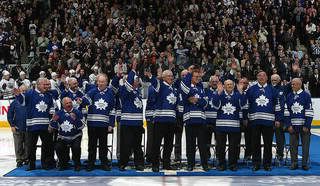 The pre-game ceremony was a tasteful affair that allowed each player to receive the crowd's affections. The loudest cheers were reserved for
Johnny Bower
, who is a regular at the games, and prodigal son
Dave Keon
. There was a nice bit of symmetry in the Leafs' win Saturday night. On the night that fans were able to cheer a player that had been in a self-imposed exile a Maple Leaf that has only recently begun to receive similar adulation from the Leafs' fan base showed once again that he is a unique talent.
While
John Pohl
impressed with his first multi-goal game it was
Mats Sundin
that sealed the victory with an incredible individual effort. I don't know the origin of the saying 'he beat him like a rented mule' but what
Sundin
did to
Staios
could have inspired it. In the end the Leafs needed a great save from
Andrew Raycroft
, who is on quite the streak, to seal the win after
Ryan Smyth
had deflected a wayward shot with a minute left in the game.
Watching the Oilers' defence struggle to put an outlet pass on the tape of an Oilers' forward (I counted 3 passes in the first period that went for icing) I wondered if some of the fans (read: Sean McCormick) regretted denigrating the
Pronger for Kaberle and Steen trade
. The season-long lament has been that the Oilers lack a PP quarterback and a puck-moving defenceman and we all know that
Kaberle
has evolved into one of the best in the league in both categories.
Smid
is young and still developing but the Oilers could have had
Kaberle
's prime years at a bargain price. As for
Lupul
and
Steen
, the offensive upside might be higher for
Lupul
but
Steen
is the much more complete player right now and has matched his counterparts offensive numbers this year.
The Leafs have a big week coming up a home date on Tuesday against the Bruins before hitting the road for dates at Nassau Coliseum and the Wachovia Center on Thursday and Saturday. In order to solidify their hold on 8th place the Leafs need to at least win two and one of them has to be the Islanders game. However, with the standings being as tight as they are the Leafs need to win all three in order to keep their chances at a better playoff spot alive.
A helmet tap to the group at
Southeast Shootout
for pointing the way to ESPN's Elias Bureau feature. Here is one that features the Leafs' captain:
Mats Sundin scored two goals and won 18 of 26 faceoffs in the Maple Leafs' 4-3 win over the Oilers. This was the third time over the past two seasons that Sundin has scored more than one goal and been "plus-10" or better on faceoffs. No other NHL player has had more than one such game over that span.