This post is cross-posted from The Battle of Ontario.
David Johnson
at
Hockey Analysis
has
updated his predicted standings
. His
first installment
had the Leafs missing the playoffs by a point and they are still in the same position! The predicted standings have managed to get even tighter.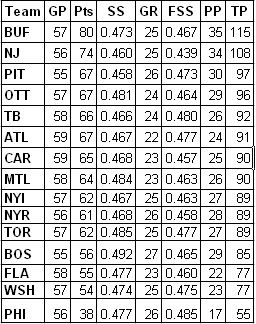 SS = Strength of Schedule
FSS = Future Strength of Schedule
PP = Predicted Points
Three points separate 5th from 11th with the Leafs projected to miss the playoffs by half the margin of last year. If this plays out I might jump off the Bloor Viaduct (just joking! suicide is not the solution to any of life's problems except being a sens fan).
What will make or break the chasing pack will be their performance within. Last year the Leafs suffered because they were not taking points from the teams directly ahead of them. Their recent five game streak was another good example of running in the wheel and getting nowhere.
Jeff J
at
Sisu Hockey
[a Habs fan but strangely not psychotic. I guess it's beacuse he doesn't actually live in Montreal] came up with
this great table
(reproduced and updated below) that captures the dynamic present in the grouping fighting for those last precious playoff spots.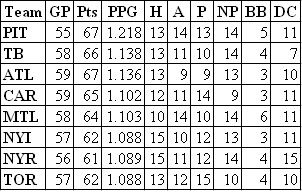 PPG = Points per Game
H = Home games remaining
A = Away games remaining
P = Games against teams currently in playoff positions
NP = Games against teams currently not in playoff positions
BB = Back-to-back games left
DC = Games remaining versus direct competition
Tampa has the easiest schedule remaining but they also have the fewest games remaining against the rest of the group which could leave them in the Leafs' position from last season. The Leafs have the most games against currently playoff-bound teams which is actually a good thing since they tend to play to the level of the competition. Montreal has the most road games left and the most left against non-playoff-bound hockey teams so I guess those cancel each other out. Either way, the Habs will be on the outside looking in.
What might be the wildcard in the push for the playoffs? The ottawa senators. The sens aren't in the table because those jerks will make the playoffs regardless of who they play over the last few games. However, they have 14 games against the above group including two against God's Team so they will have a lot to say about who will emerge from one of the tighest races since...last year with a playoff spot.