Fresh off a night in which all three relevant games turned the Leafs way (mostly because it was impossible for Tampa and Carolina to get 0 points) the boys in blue are at home to take on the Penguins. An interesting note about the Leafs-Pens season series is that 14 of the 18 goals that the Pens have scored have come on the powerplay. The Leafs' discipline (and the refs attention to Sidney's aerial hijinks) will decide the game. If they stay out of the box and kill what penalties they do get then they should be fine. If the penalties mount then so will the score. Also, the Leafs will be reunited with
Gary Roberts
who once led them past the senators singlehandedly.
Here are the standings as of this morning to use as a guide tonight. A Leafs win and a Habs loss puts God's team into 8th place ahead of their matchup with the Rangers tomorrow. First things first, the Penguins.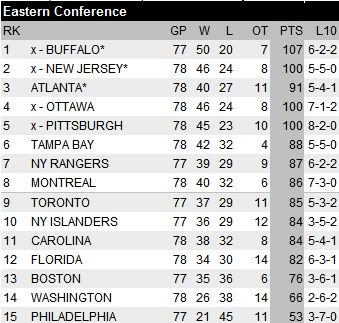 Around the NHL
Atlanta beat Boston 3-2 so the Bruins are officially unable to catch the Leafs for whatever place they finish in. Sorry Sym.
Tkachuk, Kovalchuk
, and
de Vries
led the way (anyone else wish
Hawerchuk
was still in the league and on that line?) for the Thrashers who move closer to winning a great bet over at the
Southeast Shootout
.
Washington can make up for that 5-1 beating they laid on the Leafs by taking care of the Lightning. Sure it's on the road but it's still the Lightning and they have
Ovechkin, Semin,
and
Kolzig
. That's more than enough to win a game in that division. Wishful Prediction: 4-2 Capitals
Philadelphia has played the role of spoiler well this week with a 5-1 thrashing of the Hurricanes and another win over the Rangers would be much appreciated.
Martin Biron
has until the end of the season to instill hope in his new hometown fans and what better way than to beat the hated team from Gotham. Wishful Prediction: 3-1 Flyers.
After last night's performance in Ottawa (no evidence of it left at Habsblog damn commie censors) the Habs cannot be looking forward to playing an even better and more explosive team in Buffalo. I predict only bad things for the Habs as they either play
Halak,
whose confidence must be shaken, or
Huet
,who will just be returning from injury, or
Aebischer,
who is crap. Wishful Prediction: 7-1 Sabres.
As for those senators, they look to cement their hold on fourth
and
get their provincial rivals into the playoffs (a cup doesn't count without a series versus the Leafs!) by taking their seemingly unstoppable winning machine (6 regulation losses since Christmas? what was in their stockings?) to Long Island to heap some dirt on the Islanders' playoff hopes. No
DiPietro
and possibly no
Smyth =
no hope. 6-3 senators.