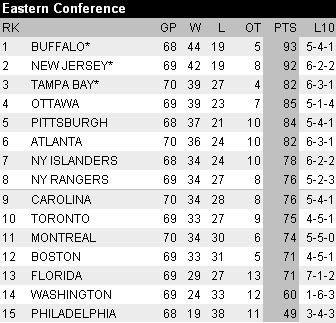 Those are the standings as of this morning. Teams are headed towards the 70 game mark and the regular season is into its last four weeks. Here's how each team affecting the Leafs and sens hopes (playoff spot/home ice advantage):


Ottawa: Tues @ Rangers, Thurs Islanders, Sat Flyers, Sun @ Penguins

Toronto: Tues Lightning, Fri @ Capitals, Sat @ Canadiens

Atlanta: Mon Capitals, Thurs @ Flyers, Fri Rangers, Sun Sabres

Carolina: Tues Panthers, Thurs Devils, Sat @ Devils

Tampa Bay: Tues @ Maple Leafs, Fri Sabres, Sun @ Capitals

NY Rangers: Tues senators, Fri @ Thrashers, Sat Bruins

NY Islanders: Tues @ Canadiens, Thurs @ senators, Sat @ Panthers

Montreal: Tues Islanders, Fri @ Penguins, Sat Maple Leafs

Boston: Thurs Capitals, Sat @ Rangers

Florida: Tues @ Hurricanes, Thurs Sabres, Sat Islanders


A busy week indeed. There are a tonne of head-to-head matchups between teams jockeying for playoff position and those vying for a last spot in the post-season so there is the potential for a bit more clarity. However, it is likely that the playoff picture will be just as murky next Monday morning. Check out DJ's
updated Predicted Standings
.