Originally posted at The Battle of Ontario
Mirtle
's
Playoff Push
has been updated with the Eastern Conference's threshold down at 93 points. This means that the Leafs have to go 12-6 (wait until they go 16-0-2!) to hit the magic number. I decided to figure out the points per game were projecting and it's not pretty for the Leafs.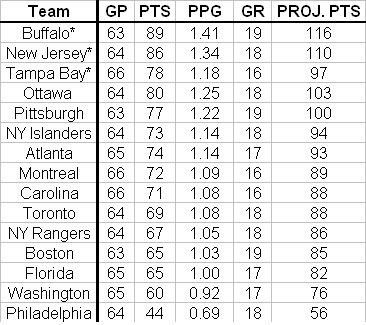 According to my NASA-level mathematical formula, the Leafs and Hurricanes will eventually fail by the painfully slim margin of
ONE F$&%*#$ POINT
. If it comes down to the excruciatingly small margin,
found here
, then one
Kerry Fraser
will have to have his head on a swivel the next time he takes charge of a game at the ACC. Of course, the Leafs are making the playoffs because they play the Habs, at home, in the last game of the year. Wow. Qualifying while simultaneously eliminating the Habs would make up for all the pain I have suffered through this season.
So it's more a matter of which team that should have made it will not. My pick is the Thrashers which could be crippling for a franchise that seemed set to make it's bow on the big stage. At one point they even looked poised to capture the division crown but that was before the Lightning's Three Amigos decided to play like it was 2004. Florida would be a much bigger factor in the playoff race if they had not lost 13! games in OT/SO. As it stands they, along with Washington, Philly, and maybe Boston, have a great chance to join Buffalo, Ottawa, Pittsburgh, and New Jersey in playing the spoiler. But not against the Leafs. Please.