Well, looks like JFJ grew a pair sometime between his repeated affirmative statements about Andrew Raycroft and today as he made a big splash on Draft Day. The Leafs will trade their 2007 First and Second Round picks as well as a 2009 Fourth Round pick for goaltender Vesa Toskala and forward Mark Bell. Note: The first round pick is set for 2007, but if the player the Sharks want isn't available, San Jose has the option to move the pick to 2008 with a top 10 protection covering the Leafs. That means if Toronto's 2008 pick is a top 10 pick then it will slide to 2009.

In a repeat of last year's move JFJ picked up a potential # 1 goalie who he will probably sign to a new contract in the next couple of months. The saying 'fool me once, shame on you. Fool me twice...well you won't fool me again' (Thanks Dubya) comes to mind. If Toskala doesn't pan out then it HAS to be JFJ's last chance. Right?

Anyway, this draft has been labelled a weak draft by everyone involved in hockey. Giving up the picks could hurt the Leafs down the road but the odds are more likely that they won't. Scratch that, knowing the Leafs the 13th pick is going to be a Hall of Famer.

Here's a look at some work from Hockey Numbers looking at the save percentages of Toskala and Raycroft (left and right respectively) based on shot location: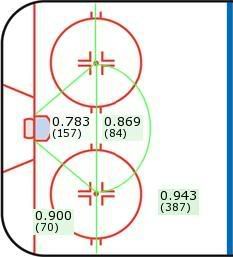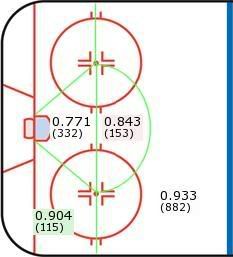 That's easy, Toskala is better in 3 of 4 areas. That was shot location on the ice and now is shot location on the goalie:

Looks like we traded a goalie with a glovehand problem for one with a stick side weakness. Toskala is again the better overall goalie. There is no doubt that this is an improvement in net for the Leafs. The interesting thing will be to see how Raycroft reacts to the trade. He can either pout and leave (like in Boston) or he can man up and challenge Toskala (please).
Mark Bell will be a good addition to the Leafs' second or third line. He is in the second year of a 3 year $6.5M contract. He is coming off a weak year with San Jose but previously he had years of 45 and 48 points on terrible Blackhawk teams so hopefully all he needs is a change of scenery.
I'll put a post together on what I think that this means cap-wise over the weekend but the Leafs are a much improved team in the present. The long-term effects will probably be devastating if only because that's what it's like to be a Leafs fan but right now I am happy.