What's wrong with this
train of thought
? When the Leafs have a player like the 28 year old John Pohl (who I like but is unbelievably expendable) why would they think about trading 23 year old Matt Stajan just so that they can sign the 33 year old Mike Peca who is coming off of a major knee injury?
Here's a look at the players that are currently on one-way deals with the Leafs: (Note: Eddie's figure represents the last installment of the buyout)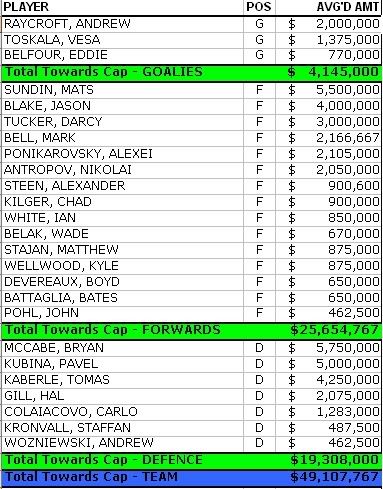 The Leafs aren't really that close to the cap because one forward and one defenceman will start the season with the Marlies. What kills me about the article is this BS:
There's only one problem. With more than $48 million (all figures U.S.) committed in salary to 23 players for the 2007-08 season, Toronto has pushed itself as far up to the $50.3 million cap as it would like. Short of dumping a one-way contract into the minors, there is no room in the vault or on the roster for Peca.
These are the Maple Leafs!! They have money to burn! They can sit a couple of million dollars in Ricoh Coliseum without batting an eye. It is the Leafs' easiest way to get around the salary cap.
That does not even bring up the idea that if they have roughly $2M in cap space why do they need to clear any more room? Is Peca going to be making close to what he made last season? He just came off his second major knee/leg injury and was not that effective last season. Yes, he would improve the PK but Blake also contributes greatly to an improved PK and the upgrade in net will play a big part in shoring up a PK unit that went downhill fast after Peca's injury.
My main problem with this deal is that after JFJ has held off trading actual young players (unlike picks who are only theoretically young players) he is now potentially going to let a Toronto drafted player that has improved every season. The marginal benefit gained between a healthy Peca and the Stajan of last season is not enough to justify letting Stajan's potential go.
I cannot wait until we trade Steen in order to sign Lindros!