The Sports section of the Toronto Star should come with a disclaimer:
Abandon all hope, ye who enter here
And when you get a turd of an article like this one from Rosie DiManno, you can understand why it might be necessary.
DiManno opens with a bang:
Prediction: Randy Carlyle is not going anywhere.

Caution: The Leafs would be foolish and reckless to fire him.

Carlyle is a Cup-winning coach who's only missed the playoffs twice in his career. There aren't many of that stature out there.

He's not the cause of the disaffect.
First of all, Carlyle has missed the playoffs three times, including the year he spent split between Anaheim and Toronto.  That makes three of the last five seasons that a Carlyle coached team has been golfing in April.  So please explain why would the Leafs be foolish to fire a Cup-winning coach? Last time I checked there were no fewer than five coaches who have won the Stanley Cup in the last twenty years that can't even get a head coaching job in the NHL: Peter Laviolette (fired twice), Marc Crawford (fired three times), Mike Keenan (fired three times, resigned twice), Larry Robinson (fired), and Jacques Lemaire (fired and resigned twice). John Tortorella is probably on his way out. He'll have been fired three times since winning a Cup.  Current NHL coaches Ken Hitchcock and Bob Hartley were fired twice after winning Stanley Cups. If anything, history has shown that winning a cup doesn't and shouldn't guarantee job security.  Coaches should (and usually are) judged on year to year results.  Claiming Carlyle isn't at fault because he won a Cup eight years ago shows a complete lack of critical thinking skills.
As coach Randy Carlyle has repeatedly acknowledged, Toronto spent months skating close to the edge and getting away with it more often than not. The glaring deficiencies in their own zone, however, bit hard in recent weeks as the Leafs plunged through the standings
That's DiManno from nine days ago.  How is this an issue of months?  The Leafs have clearly been performing poorly since the day Randy Carlyle was hired (148 games ago).  As Tyler Dellow has shown, the Leafs have been worse off in nearly every facet of puck possession under Randy Carlyle when compared to a less talented roster under his predecessor, Ron Wilson.
You all remember Ron Wilson, right?  Here's what DiManno had to say about Wilson the day he was fired from the Leafs:
Blame is a tricky thing to quantify. On the evidence of Wednesday's 5-4 loss in Chicago, the players haven't bailed on their coach. But when the fellows on the ice are still making the same mistakes they were a year ago, and the year before that, and the year before that, then Wilson has to wear it. Somewhere between his grease-board tutorials — the game plan — and the team's on-ice labours, his message has been lost, repeatedly, and that has rendered him useless.

If the players are heedless, then Burke has no option but to fire and hire. And he's too smart a hockey executive not to know that.
Interesting that the players shoulder the blame under Carlyle for rejecting his system, but under Wilson it was the system that was at fault. No points for consistency, Rosie.
Let's look at the facts: the Leafs finished 29th in puck possession this season.  Their team save percentage was 91.4%. They gave up a record 2945 shots against (league average was 2464).  Last season, the Leafs finished 29th in puck possession.  Their team save percentage was 91.7%.  They were on pace to give up 2646 shots against (league average last season would have been 2390).  Clearly, Toronto's performance on defense was not drastically different this year as compared to last year.  With the exception of the penalty kill (whose failure this season was explained here by Gus Katsaros), there is ample evidence that the Leafs have been playing the same poor level of hockey since Carlyle took over.
The biggest difference for the Leafs this season, as compared to last season, is that they ran out of luck.  Last year, the Leafs shot 10.5% at even strength. This year, it was 8.3%.  That may not seem like a huge drop, but over 82 games that amounts to 40 goals.  40 extra goals would have the Leafs safely in the playoffs.  And why did their shooting percentage drop?  Because it's damn near impossible for a team to shoot at such a high level over any significant amount of time.  In fact, the best team shooting percentage over the last three combined seasons is just 8.94%.
So no, Rosie, it's not that the Leafs tuned out Randy or rejected his system.  It's clear his system never worked in the first place.
And speaking of the players, how about this hit job on Jake Gardiner?
In his closing address to the media Tuesday, Carlyle made an intriguing reference to one of the exit interviews he'd conducted with players the previous day. He did not name the Leaf in question but identified him as a defenseman who believed the "leash he was afforded in the beginning of the season wasn't as long as the one that was afforded at the end of the season".

You don't have to be Hercule Poirot to conclude that the individual under oblique discussion was probably Jake Gardiner. "Who he compared himself with in the league — that was kind of shocking."

Assuming it was Gardiner, who might he have likened himself to, Drew Doughty? Gardiner is a high-risk, high-reward D-man but he's no Doughty. It was also evident that, in the waning weeks, Carlyle had given up trying to restrain his young rearguard, as Gardiner endlessly pinched to his heart's desire.

Not to pick on Gardiner, who has a luscious up-side to his game, but this is what I mean about players who see themselves through a glass dimly, through a prism of self-delusion. Could another coach rectify that? Doubtful. Is not, rather, Carlyle ahead of the game by understanding the personnel and trying to fix the disconnect that obviously exists?
You mean this Jake Gardiner, who is the Leafs' best puck possession player by a country mile? As shown here, Gardiner was the only regular Leaf to finish outside the bottom 50 players in the NHL in terms of shots allowed in relation to ice time.  Think about that. Fourteen Maple Leafs finished in the bottom 50 among NHLers in terms of shots allowed.  Thirteen in the bottom 30 and ten in the bottom 16!  Someone explain to me how a team has that many players failing defensively and then brushes it off as an issue with the players.  If there was ever a smoking gun showing a systemic issue as a result of coaching, it's that page right there.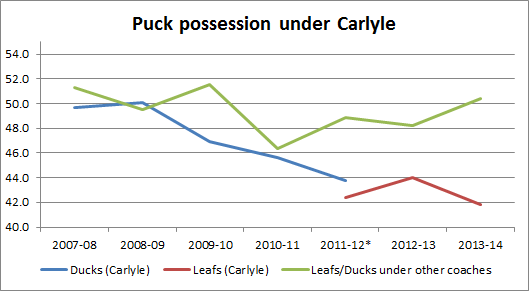 courtesy of @mirtle
Carlyle coached hockey teams, when measured by puck possession metrics, have been on a six-year slide.  So is the issue at hand really that Leafs players are a delusional bunch, believing themselves to possess greater talents than reality would suggest? Or is perhaps coaching the issue? Given the evidence, you'd have to be delusional to think otherwise.