The Toronto Maple Leafs fell to the LA Kings, but actually managed to keep the game close throughout - it was a one-goal game 'til the empty netter, and the Leafs held the Kings to the second fewest shots against since 1987 (and the fewest since 2001). Your game in six:
Some quick thoughts before turning in after a late game:
The Leafs struggled with the Kings' physicality early. Their forecheck was lethal in the first, and it really looked like the Kings were shutting down the

Leafs' zone entries. Simply, the Kings did a great job of forcing the Leafs into areas where there aren't any options. I think the Leafs got much more creative in the second, and found ways to get the puck into the zone.

Faced with this the issue of physicality,

Horachek mixed up the lines to get physical presence on every level - Panik on the first, Winnik on the second, and Santorelli and Clarkson on the third. They're still shuffling lines, and it'll be interesting to see when things start to stick when the puck drops (I assume when the forwards are a bit healthier).

Gardiner/Rielly had their fair of mistakes against talented opponents, but were still driving play and looking creative. Works for me.

I also thought Franson had a strong game - he played the second highest ice time, and defended well.

Injuries! Komarov took a rough check and wound up leaving the game, then

Kopitar took a Phaneuf shot to the head - I assumed he was dead, but he was on his bench for the next shift. Crazy game.

Clarkson is still getting power play time on the second unit. At this point, I assume it's out of embarrassment and cap hit more than ability.
Two weeks ago, I'd have laughed if you'd told me this would be the case. I'd accuse you of photoshopping it. I don't know if this stretch will continue onward, or if it'll result in points in the standings, but it sure is nice to see: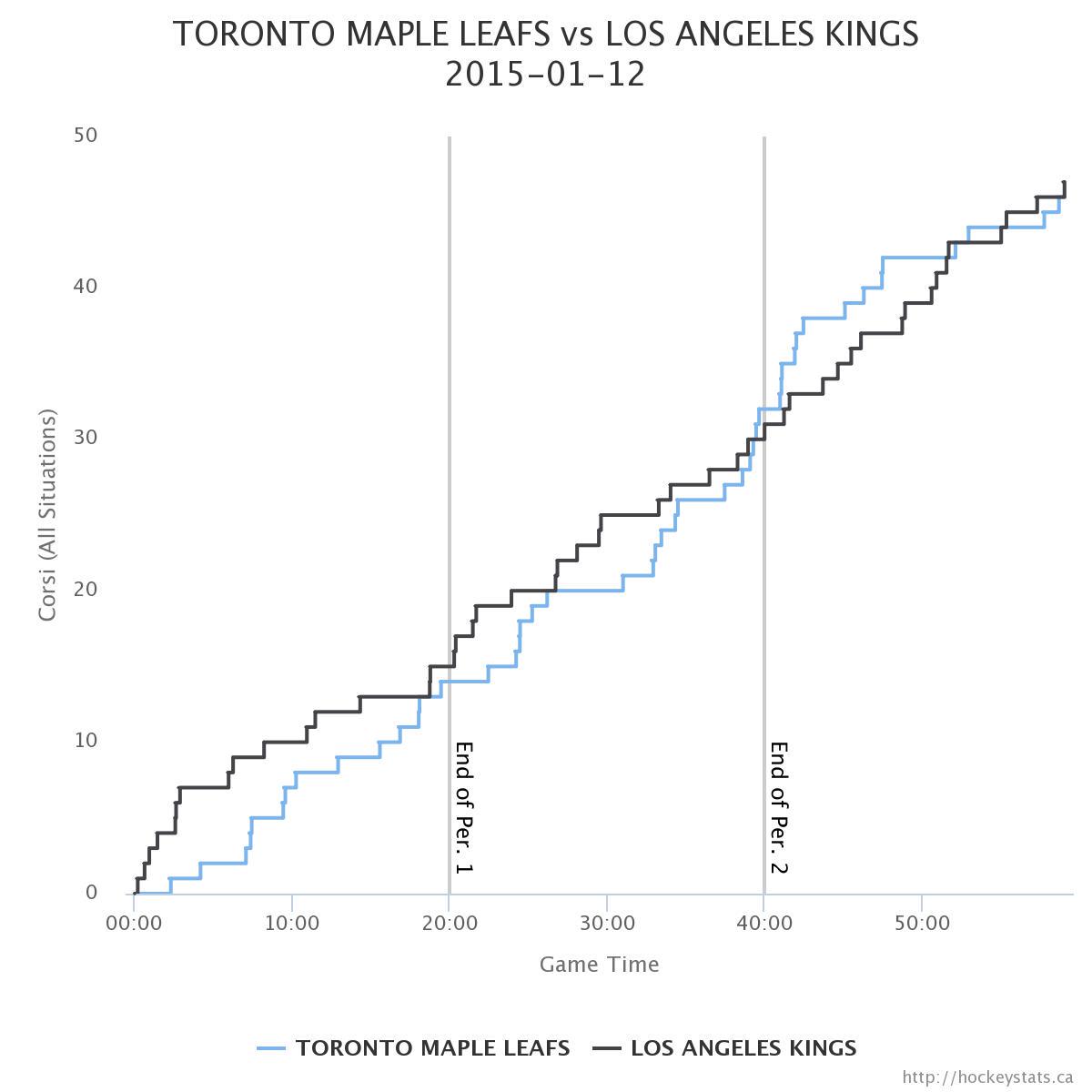 The Leafs' next game is a 10 o'clock start against the Ducks, coming up this Wednesday, followed immediately by a game against the Sharks. Here's hoping the games stay close.