From the Front Page
Interview with Leafs new skills development coach Darryl Belfry
Stop Scoring-Adjusting Tiny Samples
Score-adjustments are a useful way of analysing larger sets of shot data, but they shouldn't be used within a single game.
2015 Memorial Cup - Quebec falls to Oshawa as Leafs' Donaghey watches
Generals remain undefeated.
Only The One Good Eye - Drafting With The Leafs.
Not Norm with a quality post about how the Leafs are letting talent slip through their grasp
Leafs News and Rumours
Should the Leafs Bring Back Cody Franson? | The LeafsNation
The Steve Dangle Podcast - May 22, 2015 - Babby Cockmen
Courtesy of @joshweissbock, here are Frederik Gauthier's comparables. They're not good.
For fun, I asked him to do a few more, and he was kind enough to oblige
Connor Brown - https://pbs.twimg.com/media/CFzkd45UIAAwLtd.png
William Nylander - https://pbs.twimg.com/media/CFzpR_MWEAEo3yn.png
Attempting to quantify Mike Babcock's on-ice impact | Maple Leafs Hotstove
Report: Andrew Brewer to be named Assistant Coach of Maple Leafs | Maple Leafs Hotstove
Coach's Corner: Phaneuf better off without 'C' - Sportsnet.ca
Don Cherry and Ron MacLean talk Mike Babcock and the Maple Leafs and how stripping Dion Phaneuf of his captaincy could make him a more effective player.
Leafs' Lupul on Babcock: 'We're better off today than we were three days ago' | theScore
Sadly, you won't be around to enjoy the benefits
Oh yeah, other teams are still playing
Stamkos, Bishop lead Bolts over Rangers in Game 5
Off-Season Game Plan: Dallas Stars
Superstar scorer Stamkos is back, which is bad news for the Rangers - Cross Checks Blog
You mean his lack of scoring was just random variance? Who'd have thunk it
Memorial Cup
Generals secure semi-final berth with 5-4 OT win.
A piece from Scott with McKeen's earlier this year on Timashov (who stood out yesterday) and Beauvillier
A little spreadsheet work on prospects
I put this in the Sunday FTB, but that doesn't have a ton of traffic, so I'm re-posting it here.
I did some spreadsheet work on draft eligible players, thanks to CHLstats.com (awesome site, btw). I recently saw some research that secondary assists are essentially useless, and not really indicative of talent at all, at least at the NHL level. While I haven't done any testing to prove this, it wouldn't surprise me that the same thing holds true for junior (I'll test that out later, but it's probably true, and like the undergrad I am, I'll skip steps and be lazy). And we all know that ES scoring is a more 'true' representation of a player's talent. So I calculated a bunch of draft-eligible players' ES Primary Points per game ((ES Goals + ES 1st assists)/GP). I did this for each league (O,W,Q) and took the top 50 players in each (I figured we wouldn't really care about anyone lower than that). This doesn't capture every draft eligible players, as it's age based, not draft year based, but every player in the sheet is draft eligible.
Here's a screenshot of the top 25 or so: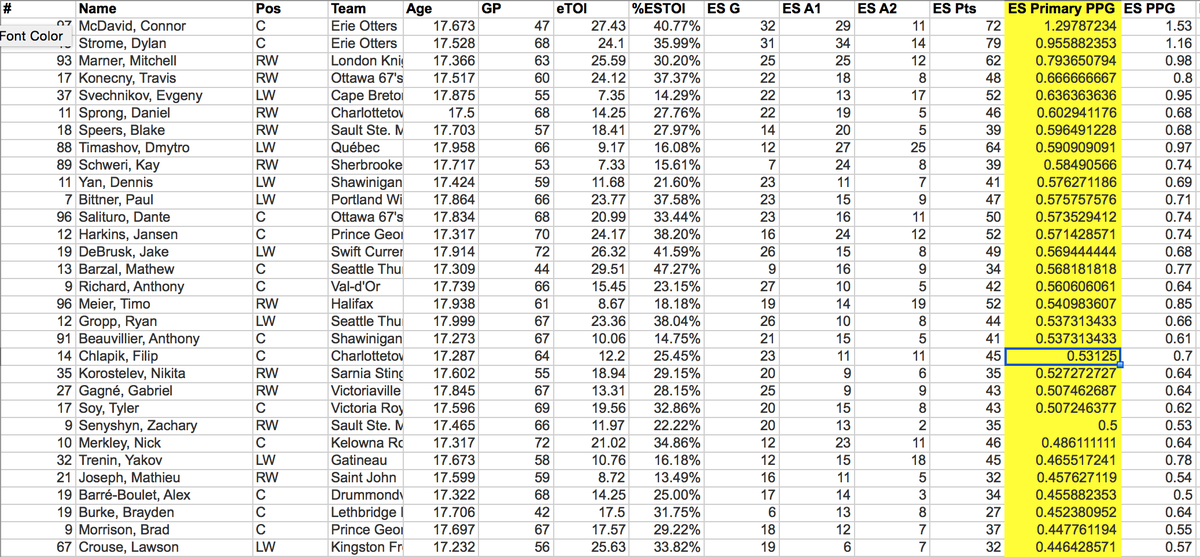 Takeaways: 
1. My god, McDavid. 
2. Strome looks excellent, better than Marner in this case
3. Concerns that Sprong's offense is predominantly on the PP seem to be overblown
4. Svechnikov and Konecny would be absolute steals at 24
5. Paul Bittner looks better than I thought he would
6. Jansen Harkins is another guy who looks better by this metric than raw point totals
7. Lets get a 2nd rounder and take Timashov