Tampa Bay vs. Montreal, 7 PM -- NBCSN, SN, TVA
A week ago I was giddy at the thought of hockey on my birthday. Hockey with the Canadiens beyond Mother's Day, not so much. Everybody knows I'm biased, so I'll try to keep my own voice out of this and discuss how things usually go down in the last installation between Team Blue and Team Red.
First of all, it might look as though Team Red has finally gotten Team Blue to the brink of disaster. They get a win or two and get confident, cocky that maybe their system of galactic oppression works. They lure a guy from Team Blue back to the heart of their "Death Star," and what happens?
For the first few games, Team Blue survived on PDO and Tyler Johnson, but in the latest game, Team Red totally owned Team Blue due to completely predictable goaltender regression and finally figuring out how to shoot the puck. Aside from the first game in the series, Team Red has been playing the better game, and it finally showed in Game 4, which we will call, "The Empire Strikes Back" because it ended in a total shitshow.
But what happens next?
Well, OK, before it gets better, it might get worse. This is what Team Blue is going to look like if Team Red strikes first tonight. But how will Team Blue ever come back to achieve victory?
I don't know. There's going to have to be some scary voodoo involved, perhaps along the lines of Bishop telling PK Subban that he's his son or something, making PK see the error of ever playing for Team Red, picking up Carey Price, and hurling him into the void?
Or, I dunno, maaaaybe Team Blue can listen to this lady for once and STAY ON TARGET. I mean, she clearly knows how to defeat the Empire, she's done it before: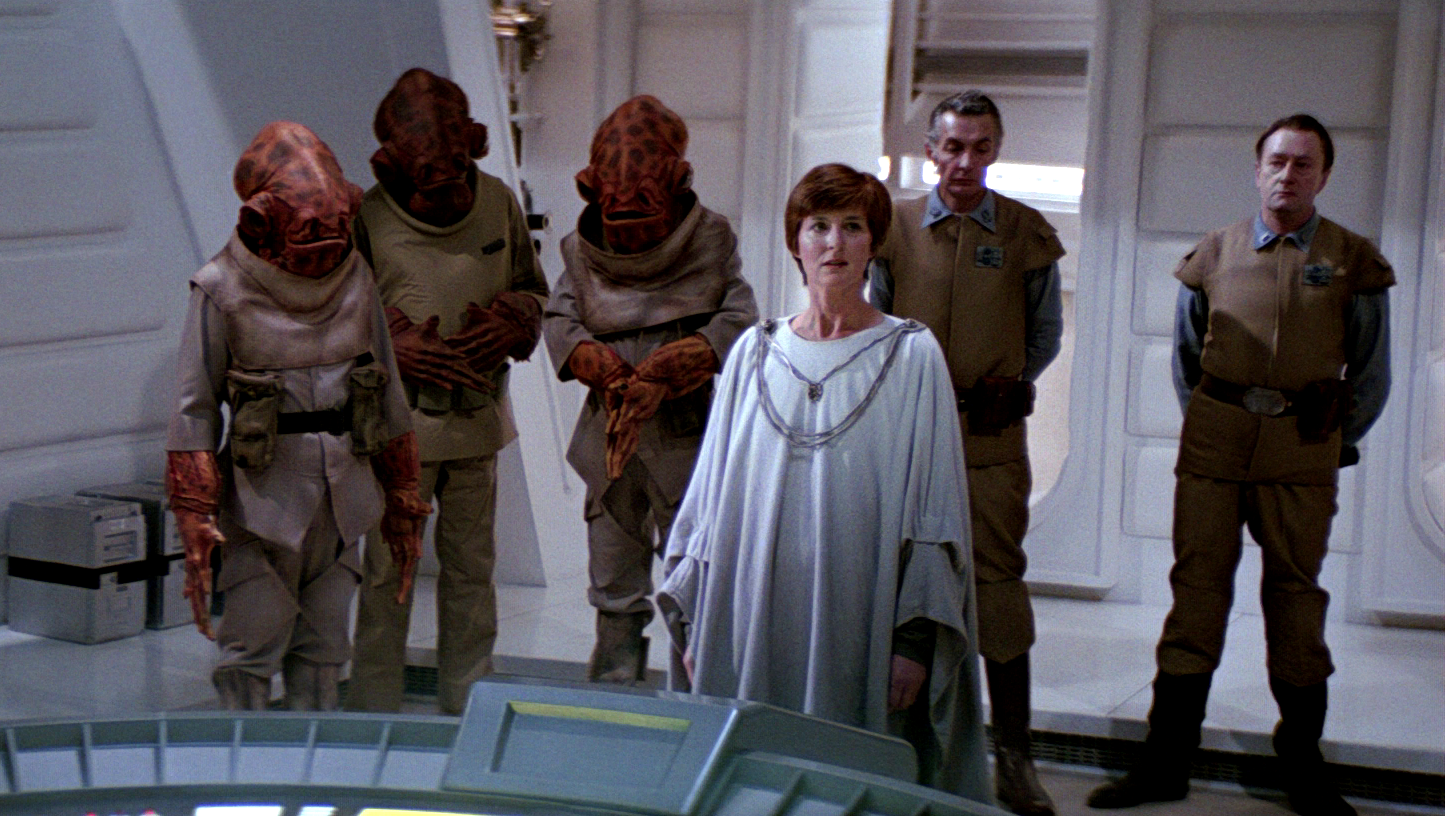 Mon Mothma: We've got to be more relentless on our forecheck and everything that we do. Team Red's a good team. You have to give them credit. They have been playing well but we definitely have more in the tank for ourselves.
So. Will Team Blue need a Game 6 or 7 to defeat Team Red? Will the Empire actually resurge to kill this small band of rebels from the far southern base? CAN THEY DO IT IN THE HEART OF THE EMPIRE ITSELF?
Well, this is how I *hope* it will end, anyway. Thank you for hanging in there with this completely unbiased Game Day Thread! If you feel like adding propaganda for the Empire Habs below, please do.
For actual, angsty looks into the heart of each team, they've been picked apart ad nauseum over at Habs Eyes on the Prize and Raw Charge.
Oh, tonight's lines are:
Team Blue
Luke - Stamkos - Leia
Ewok - Tyler Johnson - Obi-Wan
Kucherov - Yoda - Palat
Red 1 - Brian Boyle - Red 2
D-pairs:
Han-Chewbacca
Lando-Brian Boyle (Insider info: this guy is a forward AND sometimes plays D)
Team Red
Darth Vader - Emperor Palpatine - Pacioretty
Clone - Clone - Clone
Clone - Clone - Clone
Clone - Clone - Clone
D-pairs:
Boba Fett - PK Subban
Grand Moff Tarkin - Jabba the Hutt