For the Marlies, it's tough at the top, where the challenge for the rest of the regular season is to stay there.
I feel like I've said that before.
A tale of two teams
The Marlies are the top team in the AHL. I could enumerate the ways they are the best: the goals for, the goal differential, this percentage, that measure, this stat, that calculation, but they all come out the same. The Marlies are an elite team that's had a lot of luck and have won the overwhelming majority of their games so far.
So far.
They have two and a half more months to play.
Frölunda, Andreas Johnson's team, is also atop their league and has an amazing goal differential; they shoot the puck like crazy and have four real lines that can all play at a high level. They are elite, lucky, and they've won the overwhelming majority of their games. And among that elite team, Johnson, at 21, and Artturi Lehkonen at 20 are the young stars that are working every day to get to the NHL.
The rest of the team may have once dreamed of it, some of them have tried and found their home in Sweden instead, and for them the league they play in is their league; the games are a point unto themselves; the championship is the reward at the end of the season, and leaving is not the mark of success.
Frölunda are showing the signs of a sluggish desire to just get on with it, get to the playoffs, get this year over, win the cup and turn the calendar to next year so they can do it again. They've dropped a couple of stinkers lately—big losses, a couple of shutouts where they just skated around bored for 60 minutes. They've won a couple like that too.
For Johnson, this is his last year there. He is proving himself, and wants to win, but he has his eyes on a higher goal.
They have a month and a half to go before the playoffs.
The Marlies have a lot more than two guys who are yearning to escape. They have nearly a roster full. They are more than just William Nylander and Kasperi Kapanen, two guys who hope they will see the NHL this year and every year after.
There is Mark Arcobello, patiently scoring more and more and winning awards.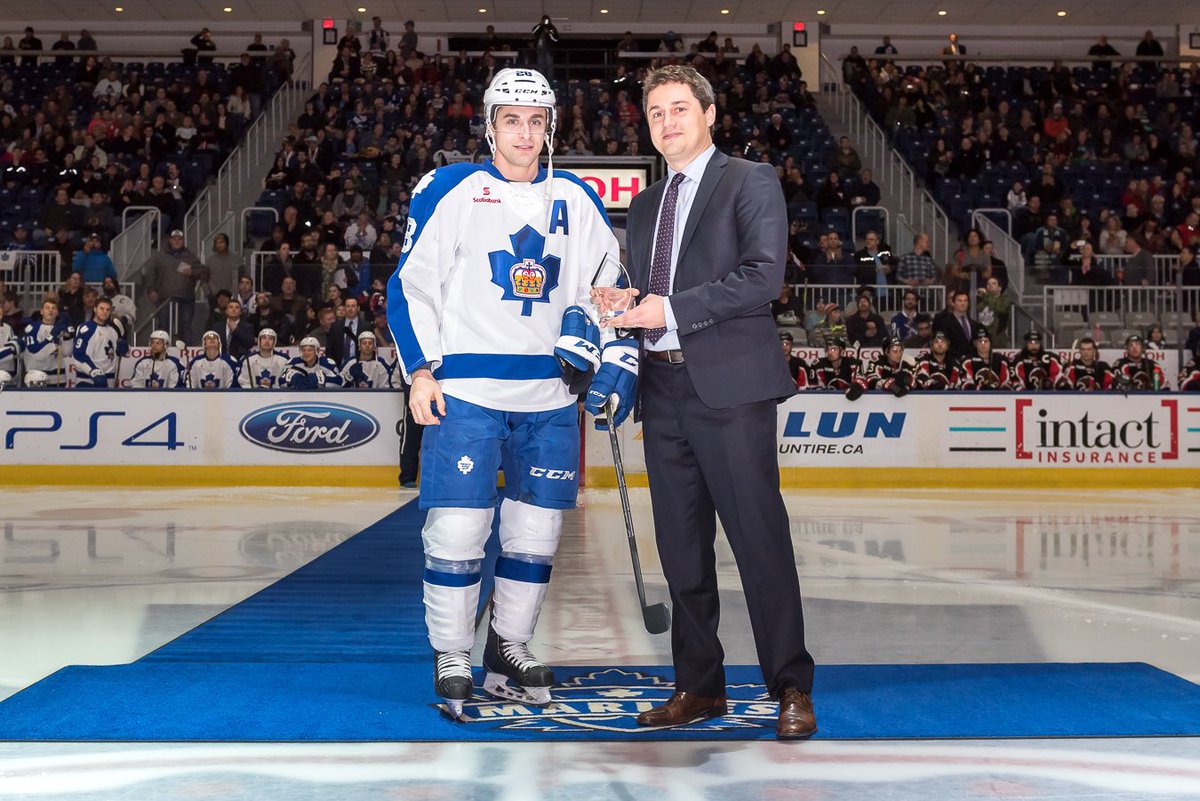 There is Nikita Soshnikov working on the bottom six and trying to prove what he can do, taking every chance to get on a better line and making the most of it.
There's Connor Brown, doing a very good job of reminding everyone who he is with points in every game since he's been back.
There is T.J. Brennan, ripping up the record books and rewriting them anew on this his fourth AHL team. On none of those has he been as dominate over three seasons as he has on the Marlies. He's tasted the coffee in the NHL, but he's never stuck, and it's easy to just decide that's it, he hasn't got it, but if the 26-year-old defenceman leading the league in scoring isn't up to it, are you sure all those kids are a lock?
There's also Zach Hyman, who didn't stick with the team that drafted him, nor did Brendan Leipsic or Scott Harrington. There's a handful of Toronto draft picks in Josh Leivo, Viktor Loov, and Rinat Valiev. And all of them want out. They don't want to ever again ride five hours home from Grand Rapids, Michigan.
And they're collectively playing pretty bad hockey lately.
The Marlies roared along for the last few games, winning while being outshot and putting on a terrible power play and giving up a league-leading number of shorthanded goals. They have been winning by betting big, risking big, and outscoring their opponents with contemptuous ease.
Lately, the defence has been falling to ruins, the goalies have been working like single mothers with two jobs, and still they win.
Or they did.
An afternoon at the Ricoh Coliseum
Saturday afternoon in Toronto, on the afternoon after that ride home from Grand Rapids, they didn't outscore their problems. Not quite.
They played the division basement-dweller Binghamton Senators, and they were each as bad as the other. They took 8 penalties each, scored five regulation goals each. They each had a short-handed goal, and the Senators won it on a goal on a breakaway in overtime after one of the Marlies blew a skate on the play in his own end and fell down. A fitting end to a game that cast no glory on anyone.
The Marlies outshot the Senators—they aren't so far gone, they couldn't do that—37-29, giving Garret Sparks a save percentage of .793.
They gave up so many odd man rushes, turnovers, easy giveaways, and I guess it was buy one get one free day at Ricoh?
This isn't a one off aberration. They've been drifting in this direction for weeks, and some of that is injuries pulling the better guys out of the lineup, and some of it is just the difficulty you have when the team is so good they score more goals than even the good teams most of the time.
Bob McGill the Marlies colour commentator was wondering how you tell these guys to tighten it up, when they usually win even when they play so loose? A good question. Ask Alain Vigneault. Maybe he knows. Not that the Marlies are the hollow-cored New York Rangers. They usually do outshoot their opposition not just out-goal them.
Getting the Marlies back on track may be a harder task than Frölunda has with their team of slightly bored overachievers, however.
It's not a terrible problem to have, being so good you're struggling to execute your system well night after night, but it is a problem. And it's a hell of a skill to bring to a team that's never had this dilemma before if you learn the trick of it.
A cautionary tale
This is what Nate MacKinnon said about Jonathan Drouin recently:
"Our junior team, we lost five games all year, we had the puck the whole game," MacKinnon said. "We were playing offense for two years, we didn't really play any 'D.' So that's tough. I don't know you can really expect lockdown 'D' when you first come into the league. You can always work on your 'D' but you can't just become an offensive force."
And he's not wrong. But where do you start to learn that more complete game? Something you can use when you don't have a team of above average players every night. Something you can use to get yourself into a position to succeed when your coach hasn't got the means to put you there. Something that will carry you when your cap-strapped team downgrades your linemates or your rebuilding team hasn't got the horses to win much.
It's not junior hockey, he's right about that too.
For MacKinnon it was the NHL. He very much did it the hard way. But the New Toronto Maple Leafs don't do things that way, they tell us. Not unless they have to, like they will with Mitch Marner.
So it had better be the AHL, the league most guys are trying to leave. And it better be now before they start leaving one way and another.
Nice problems to have
Sheldon Keefe has some things to accomplish. He's got to bring Nylander back into the lineup; he's got Connor Brown chomping at the bit to play—and he was as guilty as any guy out there of sloppy defensive errors. He might have Josh Leivo—who had as many shots on goal on Saturday as he had shots of any kind in 4 games for the Leafs—and who made a lot of sloppy definsive errors.
Keefe's also got Mark Arcobello and T.J. Brennan, who need to see a carrot on the end of the stick or they might stop carrying the goal-scoring burden for the team most nights. (Between the pair of them they have 19% of the Marlies goals. Add in Nylander and Leivo, and you get to 34%. The offence isn't quite so spread out on this team as we tell ourselves.)
Keefe's got to get them all to tighten up and play better than they need to. And he has to convince them it's for their own good. Because it is.
So far, he's been very good at doing that. Let's see if he can keep doing it once the All-Star Break is over.