Josh Leivo
had an interesting season with the Leafs this year, albeit a short one.
healthy scratch for most of the season because Mike Babcock favored
Nikita Soshnikov
as the Leafs fourth-line right-wing, likely the spot Leivo would've been competing for.
Babcock's reasoning for not playing Leivo most of the season was that he isn't the type of player suited for a fourth-line role. He doesn't kill penalties and relies mostly on his shot to be effective, rather than the type of grinding board-play that coaches like Babcock prefer low in the lineup. A mysterious 'injury' in the fall also led to a short conditioning stint with the Marlies at one point.
An argument could be made that the biggest factor in Leivo's lack of playing time is that the Leafs simply didn't have many open positions available in the lineup this season.
With notably higher-skilled and younger rookies like William Nylander, Mitch Marner and Connor Brown occupying the right side, and veterans like JVR and Komarov along with Babcock man crush Zach Hyman on the left, spots were scarce. This, combined with the team's incredible injury luck, meant that Leivo didn't get the chance to play until later in the season after Soshnikov was injured.
Once Leivo did get that chance, he scored an impressive 10 points in 13 games while only averaging 12:34 of ice time per game. He only had two goals but fired 27 shots on net for a shooting% of 7.4, which is quite low. With a little more shooting luck, he could've been close to a point per game.
Although 13 games are a small sample size, when he finally got the opportunity to play, Leivo produced. He did this primarily on a line with Nazem Kadri and Leo Komarov after being promoted from the fourth line.
It puzzled Leafs fans that Babcock was not able to find room for him earlier in the season, especially with a player like Matt Martin only managing nine points playing all 82 games.
Babcock himself addressed this notion in a post-practice media scrum near the end of February.
Babcock: The great thing about it is he just gets to keep playing and we get to keep to watching. Coaches aren't that smart sometimes. It takes a little longer than some people, but eventually we catch onto who are the best players and they get to play the most.
To me that seems like considerable praise for Leivo, as well as admitting that perhaps Leivo should've been playing prior to Soshnikov's injury.
Leivo is labeled a LW but shoots right, so it's plausible that he could have played on either wing on any line throughout the lineup had other Leafs been injured throughout the season.
Ironically, Leivo was then injured himself at the end of March. After spending most of the season in the pressbox due to the Leafs lack of injuries, he now found himself on the shelf, putting a halt to his 13 game stint, and season.
Will it ultimately be the end of his time as a Leaf as well? What lies ahead for Josh Leivo?
Before we try to answer that, let's look closer at Josh Leivo the player, and what his value is to the Leafs, or perhaps a different NHL team.
What is Josh Leivo?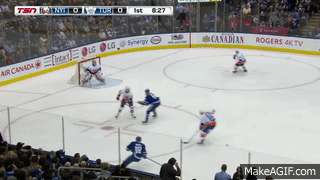 Drafted by the Leafs in the third round in 2011, Leivo has spent most of his playing career since on the Marlies putting up respectable numbers. In four seasons with them, he's played 166 games producing 0.73 points per game within that time.
Over the last four years, he's also had multiple short stints with the Leafs. When you add his numbers during that time, it paints a picture of a player who's been quite productive considering the erratic nature of his playing time and role on the team.
In 41 total games played, Leivo has scored 9 goals and 9 assists for 18 points. Just shy of a 20-goal pace and 0.5 points per game. His possession numbers also looked great during his 13 game stint at 55.3 CF%, which is close to the 56.2 CF% he managed a year prior. Leivo's good possession number in two separate stints could mean this isn't just a matter of small sample size, and that Leivo is the type of player to have a positive effect on puck possession.
Many have compared him to Leafs castaway Joffrey Lupul in that he's far from being a well-rounded player, but possesses a top six shot, and can compliment other offensive players. He also has good size for the NHL level.
He'll be 24 by the time next season starts, and likely tops out as a middle six winger that can provide depth scoring and a good shot on a powerplay, which is definitely valuable. His issue is that the Leafs are already deep at his position, and younger prospects like Leipsic and Kapanen are undoubtedly close to pushing for a permanent spot themselves.
Now that we have a bit of an idea of the type of player Leivo is, let's try and get an idea of what his future holds.
He's Claimed by Vegas in the Expansion Draft
Leivo could be a potential target for the Golden Knights if he's not protected by the Leafs, and there's a pretty good chance that he's not.
Lou and crew likely use their six of their seven forward exemptions on Nazem Kadri, James Van Riemsdyk, Tyler Bozak, Connor Brown, Leo Komarov, and Matt Martin.
That leaves only one spot left for Leivo, Eric Fehr, Brendan Leipsic, Seth Griffith, Kerby Rychel, and the newly re-signed Ben Smith. Leipsic, Griffith, and Rychel are all comparable to Leivo in both age, skill level, and value to the organization, but one can surmise that Leipsic will be their last protection, considering his slightly younger age and stellar play with the Marlies this year.
Unless the Leafs trade a draft pick to Vegas in exchange for an agreement for them to take an older play like Fehr, it's very possible Leivo could be Sin City bound this summer.
At 24, he'd be on the younger side of many of the players available, and his above average shot could be useful on a team that may be hurting for some fire power, especially on the powerplay.
Although the Leafs giving up a player for nothing is inevitable, It would be unfortunate to lose a younger player like Leivo without receiving an asset in return.
He's Traded in the Off-season
If Leivo is not acquired by Vegas at the Expansion Draft, it's possible that the Leafs consider trading him.
The Leafs defensive problems are no secret, and many, including myself have concluded that trading JVR for a top-four defenseman is the best way to improve that issue. His contract is expiring at the end of next season, and he'll be exiting his prime within the next few years. The type of money and term he'll be looking for won't be a good fit timing wise with the Leafs young superstars' ELCs expiring around the same time.
Josh Leivo could become an asset used to sweeten a deal with JVR as the centrepiece, bringing a top-four blueliner back to the Leafs. A team looking for forward depth and scoring could benefit greatly from dropping JVR and Leivo immediately into their top nine.
Alternatively, Leivo could be traded one for one for a d-man whose career is in a similar spot to his - A young player quickly becoming less young, who's struggling to find ice time on a team with significant defensive depth. Their value may also be difficult to assess due to never having the opportunity to play a full season in the NHL.
He Plays Next Season
If Leivo makes it through the summer, his short regular season success could continue at training camp, ultimately impressing Mike Babcock enough to give him a roster spot for game one. He'd be hard pressed to find any significant ice time on the right side on the top three lines barring any major injuries, however, a fourth-line role and potentially some powerplay time isn't out of the question.
He'd likely be competing in Training Camp against Nikita Soshnikov once again, and Kasperi Kapanen. Considering both those players kill penalties and are younger, I don't particularly like Josh's chances. However, if he produces at a rate that's hard to ignore during the pre-season, he'll leave Babcock with a difficult decision to make.
He could also be a potential fit on the left side of the fourth-line, but it doesn't seem like Babcock has any intention of ever taking Matt Martin out of the line-up. While he's in, that's his spot.
Babcock has seemingly written down Hyman as Matthews' left winger in permanent ink, so Leivo finding some ice time there is probably out of the question as well.
JVR and Komarov aren't likely to go anywhere for at least another season, unless one were to be traded. This scenario may be Leivo's best chance at finding significant ice time next year, if Babcock is comfortable with him on the left side. He could be immediately plugged onto the left side of Bozak and Marner if that line were to remain intact.
Playing for an extended period of time with two 50 point+ players would allow management to truly assess if Leivo is the type of player worth keeping in the organization.
Status Quo
The worst-case scenario for Leivo is that he experiences a similar season next year as the one that just passed. The issue with this is that another season of sitting in the press-box in favour of players with more distinct roles will only decrease both his confidence and his value.
The Leafs could potentially run into injury luck earlier then they did last season, providing another opportunity for him to prove his worth, but sooner than later they're going to have to make a more committed decision on either playing him, or moving on from him.
The Most Likely Scenario
I think Josh Leivo has more to offer a team than he's had the chance to truly prove, unfortunately, I also think his days with the Leafs may be numbered.
He'll likely be one of the prime targets for the expansion draft along with a couple others, and if he's not selected, I think the Leafs winger depth is too great for Leivo to ever get a legitimate shot at playing a full season.
I also wouldn't be surprised to see him traded in the summer, potentially to help bolster the organization's shallow defensive prospect pool.
Regardless, I think Josh Leivo is good enough to be a full time NHL player, I just don't think he'll get the chance to be one with the Leafs.
*All statistics courtesy of Hockey-Reference.com