I am stuck with two emotions right now. The first is oh my god we won, we actually beat the Bolts, it happened, it really happened. And that I want nothing more than three more of these feelings before the end of June.
Bring on Boston or Florida, we'll know after tonight which one it'll be. I don't have a preference. The Bruins had the better team this year, but the Panthers are healthy and would be coming in with dragon-killing confidence. I'm not sure which one is an easier opponent in a short playoff series. C'mon teams, just make the decision for me.
Here's the Leafs post-game.
Here's the Leafs making NHL history by being the first team EVER to win three OT games on the road in a single series. This was in the back of my head all game, because there was surely no way they could take three games in Tampa. I'm completely and utterly shocked they pulled it off.
Here's the best call of the night.
Here's Morgan Rielly turning into an absolute boss in the playoffs when it matters most.
Here's Captain John Tavares bringing the rain, drought killer.
Here he is again.
And again.
Here's a well-timed video of ZAR, Simmonds, and Holl reacting to the game winner and series clincher. So many emotions for Wayne.
Here's Darth Vader himself cheering on the Evil Empire that is the Toronto Maple Leafs. Credit to this TikTok that had the original video.
Here are some stories to round out the FTB: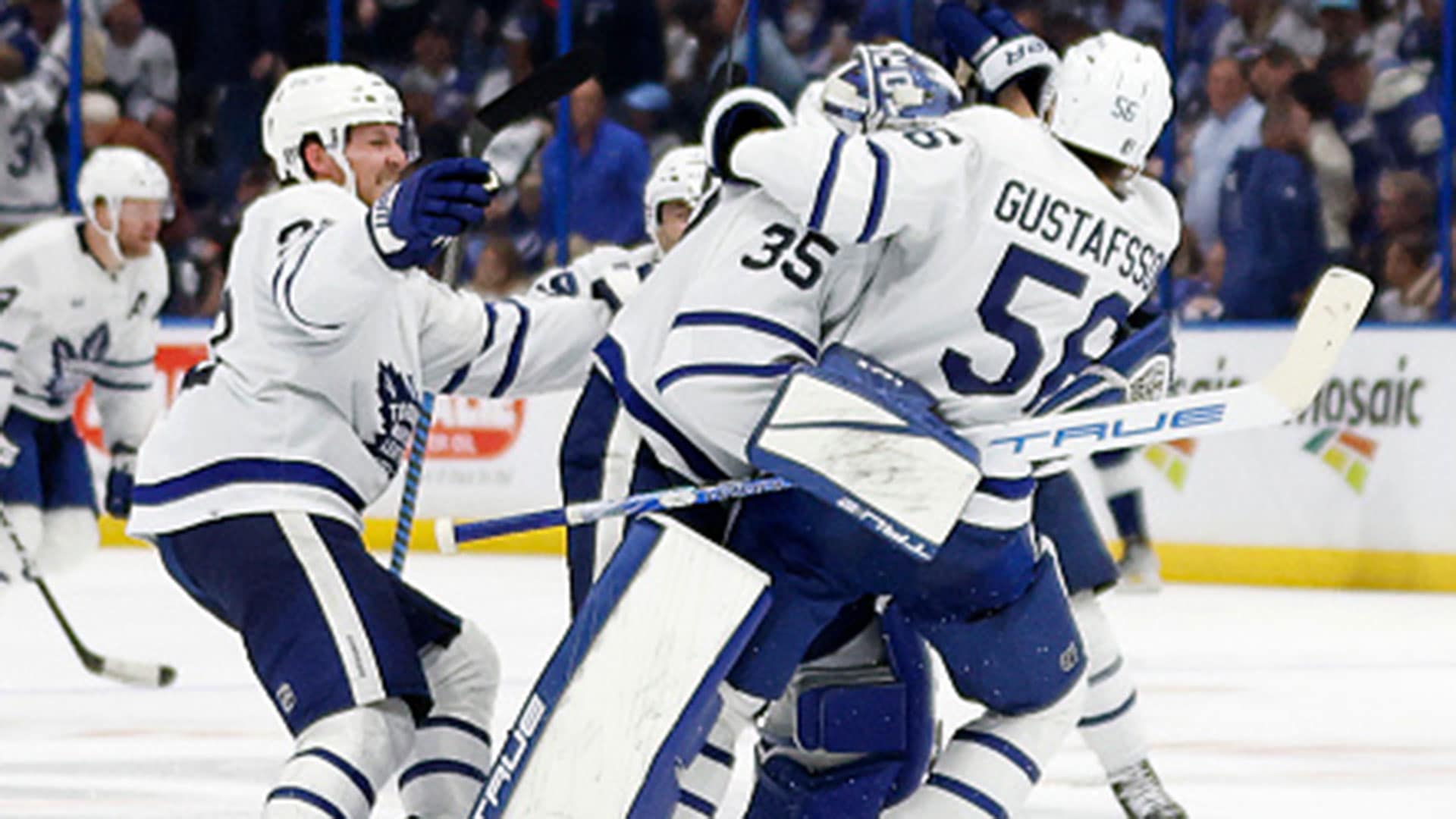 NHL Playoffs
Toronto Maple Leafs 2-1 OT over Tampa Bay Lightning
Leafs win series 4-2
YOU F&%KING HEARD THAT RIGHT, BABY!!!! LET'S GO!!!!!!
New York Rangers 5-2 over New Jersey Devils
Series tied 3-3
There hasn't been a close game in this series, we'll see what the rubber match looks like.
Edmonton Oilers 5-4 over Los Angeles Kings
Oilers win series 4-2
A couple blown leads, but the Oilers scrape by. They face the Golden Knights next, who have been a much more complete and flawless team so far.
Leafs Prospects in the Playoffs
The Marlies lost Game #2 by a score of 7-2 at home. Game #3 is on Wednesday in Utica.
Kamloops and Fraser Minten lost 5-1 to the Seattle Thunderbirds in Game #1.
Brandon Lisowsky, Josh Pillar, and the Saskatoon Blades lost Game #2 to Winnipeg by a score of 6-2. They are now down 0-2 as the series moves back home to Saskatchewan.
Nick Moldenhauer took a tough hit in Chicago's first playoff game. They ended up winning with Moldenhauer picking up an assist. The second round series is 1-0 in Chicago's favour.
The Newfoundland Growlers in the ECHL, Ty Voit in the OHL, and Moldenhauer in the USHL play today. We'll have more in our PPP AD.
Welcome new readers and members
If you're completely new to PPP please read the Community Guidelines. The About Page gives a brief outline of who we are and how we came into being. If you're not completely new, you should read the Community Guidelines.
If you need help with something, check out the How To section, particularly the FAQ If you can't see the comments, go to the FAQ first If nothing there helps, drop an email to us. Look for the Contact link in the footer.
You have to be a member to comment, and membership works on an email-based, no password system. You will be sent an email with a secure login link or a URL you can copy if you want to use a different browser to where you get your email. This is a fairly uncommon system, so if it causes you trouble, ask for help.
If you're going to the trouble of making an account to make trolly comments as a fan of some other team, may I suggest you start your own blog and build out the site and customize the experience for your readers. You suddenly won't have time for that nonsense.
Any other questions, just ask, someone will either know the answer or lie convincingly.