Kevin McGran spoke to Leafs defender TJ Brodie about his former and now current boss Brad Treliving and the uncertainty that comes with a new GM. It appears all the players are trying to find their footing with the sands shifting, especially those on expiring deals, which Brodie is one year away from.
Pending UFA Ryan O'Reilly also spoke to the media yesterday, joining Overdrive to talk about his short experience in Toronto. ROR acknowledged that getting out of the first round was a big deal for some people on the team in terms of feeling the pressure come off, but then how quickly they fell behind Florida. It parallels with Keefe acknowledging in his end of season presser that his team wasn't ready for what the Panthers brought, that he underestimated their opponent.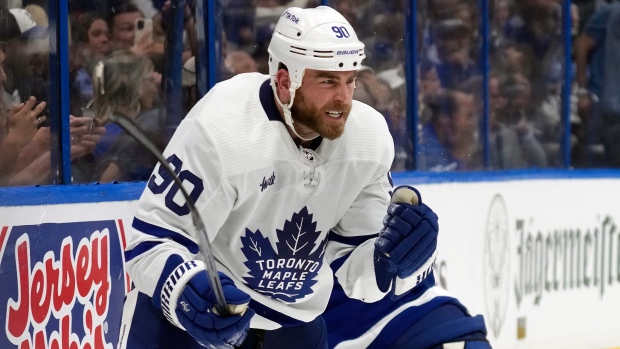 Ryan O'Reilly on this interview said that there were different things the @MapleLeafs could have tried in the 2nd rnd but didn't. He said it a couple of times that he & others wished they had tried other things. 🤔 Discuss amongst yourselves https://t.co/r8nhUTNSY2

— jonah (@yyzsportsmedia) June 8, 2023
Elliotte Friedman shared on his podcast a conversation he had with "someone" about the Leafs. EF was very cagey about who he had a phone call with and what was really said about the Leafs, but spoke about the team being focused on the Core 4 and then 19 other guys. I'll share a direct quote from the podcast because the comments have been spliced and interpreted in parts into the mainstream so I want our readers to have it clear and right. The conversation starts around 22:15 into the podcast linked below.
EF: "One of the things that came out of the season was that Toronto wanted to de-emphasize the Core 4.
"Not that the organization feels anything negative towards those players, but I think there was a feeling amongst the entire group -- other players on the team, some of the coaching staff, and front office of the organization -- that there was too much about them. Too much about the Core 4, and then 'the other 19'. They felt it interfered with the growth of the team.
"If you look at the third and fourth line over the years, there has been a lot of turnover. What someone indicated to me was that they haven't done a good enough job as a group (everybody) creating an identity for other players on the roster. I want to stress this isn't about jealousy, but I think it's about if you want to win, it's about 23, not with 4+19.
"I want people to be careful with this not to use it to rip the four guys, because I don't think it's that. I think it's just that they have to get away from that. I believe some of the depth players talked about this, that they feel it gets in the way with forming a team identity. Some of that you won't get away from because in the media we'll talk about the Core 4, you can't escape it, but can you do a better job about creating an identity around some of the other players on the roster. And I heard that's a big thing that they're going to try and work on."
JM: "I've always just assumed it's been that way because of economic necessity. And the new-school idea that if you have a bottom-six player and that player surpasses expectations you don't financially reward that player, you go out and get another one on a value contract because the hockey universe supplies those players."
EF: "I understand what you're saying, I'm just saying it came up. It came up."
JM: *goes on about tough fourth lines*
EF: "I don't think it's so much about pay, I think it's about emboldening other players in your lineup. Look at all the different people they've had on their third and fourth line. One of the things they're trying to find out is is this good intentions gone bad, or could they do a better job of finding roles for these people.
"A lot of people complained about having Kämpf out on offensive zone draws, and I thought that was Keefe trying to have a third line with some identity to it.
"Just overall I've heard that they are committed to less oxygen on the Core 4 and building the team around them. It's not that they're bad guys, it's just there's so much talk in the market around them that it's affected how they talk about themselves."
There was a lot there, so maybe it's good to condense some of it down.
This is clearly the Leafs talking about themselves. At several points Friedman talks about the emphasis inside the room and how the talk from the outside became the talk on the inside.
This is clearly something real to be concerned about since the team with Treliving are emphasizing making changes (Treliving made a comment on this in his introductory presser).
This is not about getting goons on the fourth line or just not telling players what to do, because Friedman walked away from Marek's jaunt down memory lane of goon lines pretty quickly and focused on the team seeing they need to embolden the "everybody else" of their roster.
This is me talking now, I don't blame the Leafs media for talking about the Core 4 all the time, what else are they really going to talk about. What else do we at PPP ever talk about? But the fact that it has seeped into the team, presumably with how the head coach and GM operated, is a problem. It's the team's problem.
Last thing on this topic, I'm going to share the list of forwards who finished 7th-9th in icetime for the past several seasons.
2023: Kämpf, Kerfoot, Järnkrok
2022: Mikheyev, Kerfoot, Kaše
2021: Mikheyev, Thornton, Galchenyuk
2020: Mikheyev, Johnsson, Kerfoot
2019: Kadri, Nylander, Brown
I'd also like to add the likes of Pierre Engvall and Trevor Moore who hovered around these positions.
I don't think these all players should've been kept, and I don't think Friedman is saying that either. He said many times it's not about the money or who gets the financial reward, but enabling and emboldening everyone to have ownership of this team and that everyone can make a difference.
That's what I think he's getting at, the team got in their own heads that *only* the Core 4 can make a difference. They make a difference, but it's not exclusively on them.
One might think this is pretty fickle and adolescent of players to feel this way, but I have news for you about 20-something professional athletes who probably only went to college for the frat parties. Fickle or not, this is something the team feels they need to address, and have felt since exit interviews.
Moving on to some brighter news, the Leafs have opened the NHL's United by Hockey Mobile Museum, their "elevated" Black Hockey History outreach project. The short-tenured museum is open today and yesterday in Regent Park. News hit linked below.
We're open! 🗣

Stop by to check out the United By Hockey Mobile Museum with Leafs alumni Val James, Mark Fraser and André Deveaux! pic.twitter.com/Ig58hvzw74

— Toronto Maple Leafs (@MapleLeafs) June 7, 2023
Game 3 of the Stanley Cup Finals are tonight, here's a story about Brandon Montour and Zach Whitecloud, who get to represent their Indigenous nations on hockey's biggest stage.
In transaction news, we got two contracts signed yesterday. First, the expected Vladislav Gavrikov contract that did end up being two years long. I believe with this, Gavrikov will get a chance to sign an "into the sunset" contract in a couple years when the cap has risen when he's still only 28.
Vladislav Gavrikov #GoKingsGo
$5.875M x 2 year extension

Confirmed Breakdown:
$775k base + $5.725M SB
$775k base + $4.475M SB
(Max signing bonuses)

Full NMC in both years

Rep'd by Dan Milstein @HockeyAgent1 of Gold Star Hockeyhttps://t.co/ymOLThTq0N

— CapFriendly (@CapFriendly) June 7, 2023
Chicago signed Andreas Athanasiou to a two-year contract as well. He's going to help fill out their tanking roster.
Chicago also hired Darren Pang to join their local TV Broadcast.