MAPLE LEAFS (17-20-9) at LIGHTNING (26-18-4)
7:00 PM - AMALIE ARENA
TV: SPORTSNET ; RADIO: FAN 590
The Tampa Bay Lightning are not the toughest team to play against on this peninsular part of the United States, any more. Yesterday I talked about how nothing explains the Cats' success. Today, at least, I can talk about what explains TBL's lack of success lately, what hamstrung them during their early season slump.
The answer is as plain as a very tall person named Andrej Sustr in the middle of the ice: TBL's bottom four D kind of suck. Travis Yost was good enough to write an article about the defensive situation, and created this chart to represent how each defenseman does when matched with each line's center.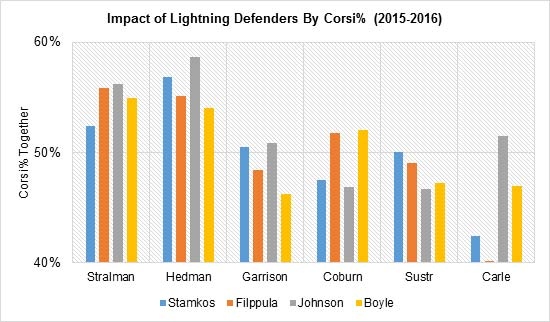 If you've ever watched Bolts twitter during a game, every now and again you'll see a gif pop up of a concerned looking person yelling, "CAAAAAARLE!" And it's usually because of his latest turnover or a failed pass to nowhere or just plain standing around in the neutral zone looking peaceful, like Ferdinand the Bull.
Yost says that Tampa Bay's reliance on these bottom four are probably due to Sustr's handedness, and I'm going to agree because Jon Cooper tends to favor pairing right and left shots (which is why Mark Barberio is now chugging away diligently with the Canadiens):
I do wonder if Tampa Bay thinks this is a two-pronged issue – the first being that talent on the second and third pairings hasn't played up to expectations, the second being that 'handedness' is contributing to some of the defence's struggles. Three of the four regulars (four of five if you count Nikita Nesterov) are left-handed shots, meaning at least one pairing is lefty with lefty. That means the other pairing features the lone right-handed shot in Andrej Sustr, a player who hasn't developed as quickly as Tampa Bay anticipated. Acquiring a talented right-shot defender would hypothetically solve both of these issues.
Yep. We'll see whether the Leafs can exploit those bottom four tonight, or whether Cooper will split up Hedman and Stralman again to help out the less-good D.
Of course, I am bringing this up so that nobody notices the enormous elephant in the room, which is the fact that a Russian guy named Nikita Kucherov is currently leading the team in points, and just pulled even to Stamkos in goals. What do you reckon some member of the media will ask Stamkos whether this is because of mental distractions (such as drama regarding his contract)?
Comparing the two teams:


Toronto
Tampa Bay
Record
17-20-10
26-18-4
Division Rank
8th Atlantic
4th Atlantic
Conference
15th East
7th East
League
28th overall
12th overall
Top Scorer

Leo Komarov

16G
Nikita Kucherov 20G
Top Points
Leo Komarov 31pts
Nikita Kucherov 41pts
Goalie

J

onathan Bernier .899sv%
Andrei Vasilevskiy .906%


LIGHTNINGS
Ondrej Palat - Steven Stamkos - Vladislav Namestnikov
Alex Killorn - Tyler Johnson - Nikita Kucherov
JT Brown - Veltteri Filppula - Ryan Callahan
Cedric Paquette - Brian Boyle - Jonathan Marchessault
Victor Hedman - Anton Stralman
Nikita Nesterov - Braydon Coburn
Jason Garrison - Andrej Sustr
Andrei Vasilevskiy
Ben Bishop
PP Units:
Ondrej Palat - Vladislav Namestnikov - Steven Stamkos - Valtteri Filppula - Anton Stralman; Alex Killorn - Tyler Johnson - Ryan Callahan - Victor Hedman - Nikita Kucherov
Scratched: Jonathan Drouin (he mad)
MAPLE LEAFS
Frank Corrado draws back into the lineup, and Michael Grabner (puck to face) sits, according to @HennyTweets
Shawn Matthias - Tyler Bozak - PA Parenteau
Nazem Kadri - Leo Komarov - (Not sure who's here yet)
Joffrey Lupul - Peter Holland - Nick Spaling
Daniel Winnik - Byron Froese - Rich Clune - Frank Corrado

Matt Hunwick - Morgan Rielly
Jake Gardiner - Dion Phaneuf
Martin Marincin - Roman Polak
Jonathan Bernier
James Reimer

Injured: James van Riemsdyk (foot), Stephane Robidas (lower body), Nathan Horton (LTIR), Michael Grabner (puck to face)
Scratched:  Brad Boyes, Josh Leivo
PP units:
Matthias-Bozak-Parenteau-Rielly-Phaneuf, Lupul-Kadri-Holland-Komarov-Gardiner
Drama, Drama, Drama
Welcome to the one team with more drama this season than the Habs and Leafs combined.