Sign Up to PPP Today
You have to be a member to comment at PPP. Membership is free and requires only an email address.
Become a Member
Already have an account? Sign in
---
After three season at Harvard, Nick Abruzzese made his professional debut this past season with the Toronto Marlies, and also played in two NHL games with the Maple Leafs. It wasn't as decorated as his NCAA career, but it was a big step towards his ultimate goal and his play in 2022-23 earned him a two year contract extension a few weeks ago.
| Nicholas Abruzzese | Vitals |
| --- | --- |
| Age as of July 1 | 24.07 |
| Position | C |
| Height | 5'11" |
| Weight (lbs) | 183 |
| Shoots | L |
| Draft Year | 2019 |
| Draft Number | 124 |
Drafted in 2019 in the fourth round, he wasn't the Nick who got all the attention at the time, being overshadowed by Nick Robertson who was taken two rounds earlier. This Nick, however, has been able to stay healthy since being drafted, playing more AHL games in his rookie season than Robertson has had total since leaving the OHL in 2020.
Last year's votes showed potential and excitement in him, putting him 8th overall with expectations for the new pro.
Abruzzese won't challenge for a roster spot at training camp, but staying as long as possible with the NHL camp will put him on the radar for call-ups mid-season. For myself, another strong year in the AHL that we saw last season - 16G, 32A, 48Pts - is the ultimate expectation for him.
Before we get to our comments, it seems just outside the top 10 of young Leafs is his place. From The Leafs Nation:
I felt he became a bigger factor in games as the season progressed, and in the Marlies' seven playoff games, he had seven points. He earned a late call-up towards the end of the regular season with the Leafs, playing in two games and picking up two assists.
Abruzzese sees the ice very well and has a great hockey sense. His ability in the offensive zone cemented him as a good playmaker in the AHL, and his overall game was solid.
The Hockey Writers are also high on him:
Abruzzese has worked hard on the defensive side of his game. He's improved his ability to get pucks back and has become more effective in the defensive zone. Maple Leafs fans should expect to see a growing and well-rounded player who contributes at both ends of the ice.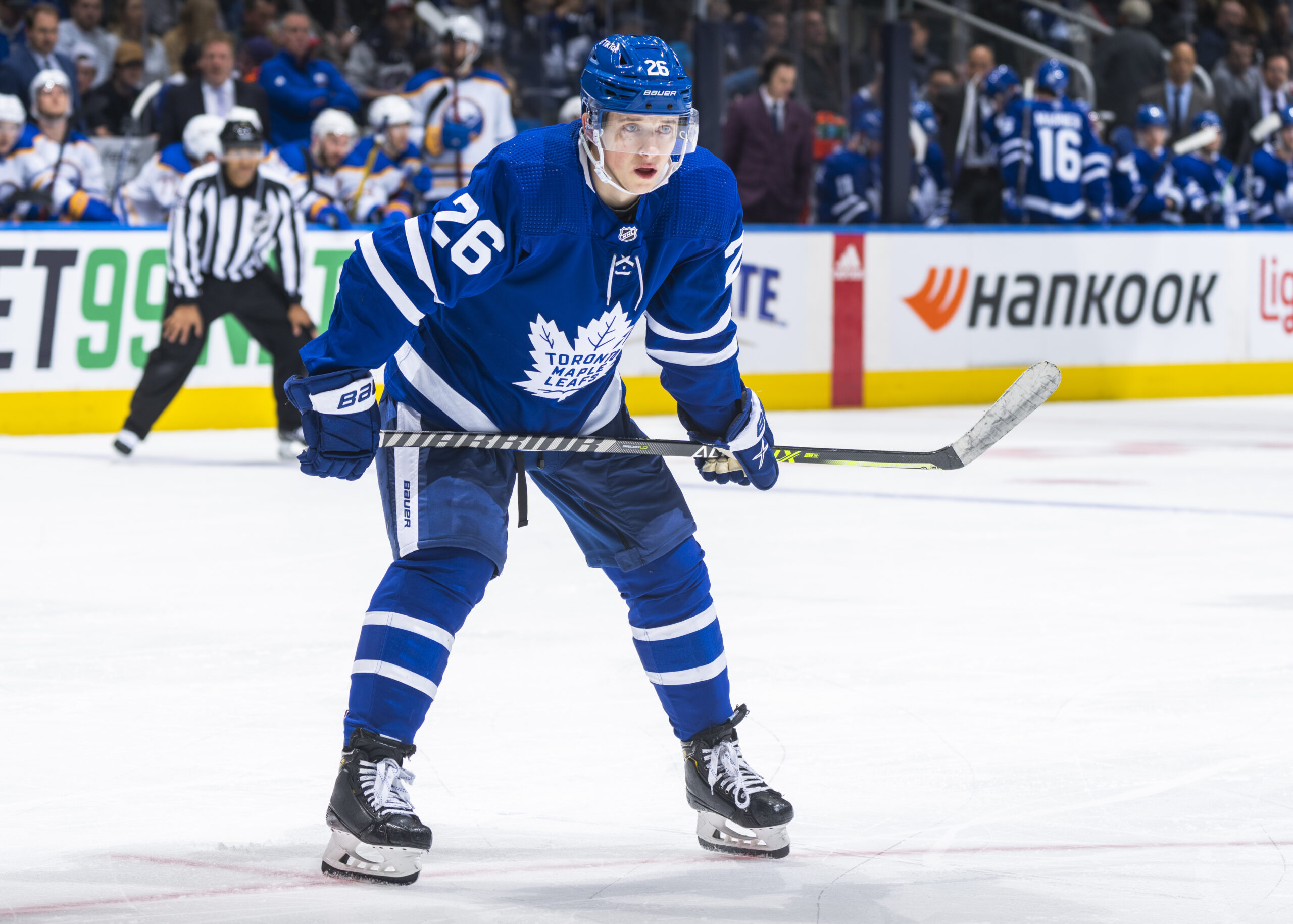 Votes
I had him in my top 10, ranking him 8th and Species had him ranked highest at 7th. He dropped all the way down to 16th on Hardev's list. For me, he has a tiny bit of NHL experience, and that shows management and coaching see him as a potential NHLer and that means some more for my consideration.
I still believe in his potential, but that may just be me not being too deep into anyone outside the NHL the past few season.
| Voter | Vote |
| --- | --- |
| adam | 8 |
| Brian | 12 |
| Hardev | 16 |
| Cathy | 12 |
| Catch-67 | 13 |
| Species | 7 |
| dhammm | 15 |
| Zone Entry | 9 |
| bballgordie | 8 |
| The Bag | 14 |
| Weighted Average | 11.4 |
| Max Vote | 16 |
| Min Vote | 7 |
Voter Comments
Brian: One of the better prospects on that big pile of maybes, or AAAAers. He's played the most NHL games of that lot, and could play some more this year as one of their top call up options if there's injuries. I just don't think he's quite good enough to carve out a full time role.
dhammm: This may be the first year Abruzzese didn't exceed my expectations, but this is also the first year I expected anything from him. One thing working since draft day against Abruzzese blossoming into a player to write home about is his age, given he was drafted as a relatively unknown double-overager who had yet to start his NCAA career. Case in point: this is his last year of eligibility for the T25U25. I'd look for him and the other young-ish tweener forwards to get the first look for call-ups in the regular season.
Catch-67: Abruzzese is more boring than I expected. He's good at the AHL level. He's been serviceable at the NHL level in his few short stints. But he hasn't shown anything all that exciting, and coming off of probably overrating him after his NCAA career, I think I've swung back to just finding him "meh". I suspect he'll stick where he's at and top out as a AAAA player, but I wouldn't be surprised if he ends up as a depth player for the Leafs for a while.
The Bag: He's older than Alex Steeves by half a year, for some context. I tend not to expect much growth from 24 year old forwards, so when I look at Abruzzese I see a capable AHL player and not much more. He has exceeded expectations for a 4th round pick, but not by enough to warrant a higher spot on my list. I don't see him adding value to the Leafs this season or in seasons to come.
Cathy: He's another who would be at least occasionally in the NHL on some other team. But he wouldn't be doing anything exciting there.
Highlights
---
PPP Runs on Your Support
If you enjoy the T25U25 every year, and want to see it continue, please consider becomming a paid subscriber. We want to keep all our content open to all users, but to become a sustainable site, we need more support from paid members.
Subscribe Now