The regular season isn't quite over, but it seems appropriate to look more closely at the Leafs – the reason we're all here – as we learn about our new home. Starting at the top and finishing at the bottom...
NHL
The NHL is in surprisingly good shape after the Pandemic. Revenues have rebounded very well, with Gary Bettman reporting in mid-March that Hockey Related Revenue is coming close to the $6 billion mark.
The Ottawa Senators are expected to sell for a record-breaking amount that's going to be closer to $1 billion than anyone would have expected a year ago. There's also interest from multiple parties in various cities around expansion. Bettman claims the NHL is not interested in more expansion right now, however.
There's a few problems – regional TV coverage of sports in the USA is undergoing a lot of changes, driven largely by MLB's desire to see the end of blackouts. While not a disaster, the financial hit of Bally/Diamond possibly failing to make some payments on contracts will push back the date by which the Escrow debt owed by the players is paid off. Bettman is claiming the cap will only go up by $1 million next season unless the players agree to more escrow. I don't believe him, and I think a deal will get made that everyone can live with. I'm still predicting something close to $4 million as the increase.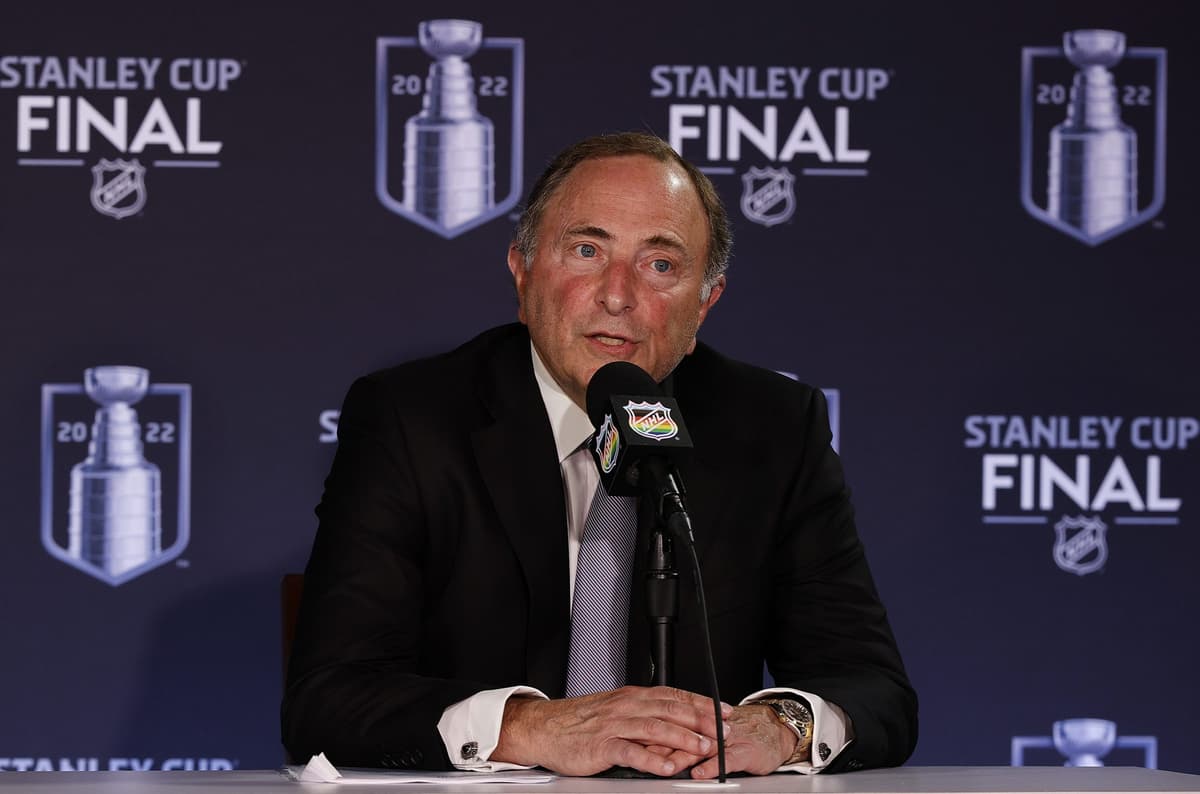 MLSE
The parent company of the Maple Leafs seems to be rolling along. One owner of MLSE, Bell Media, is a regional broadcast of the NHL in Canada, but the issues affecting that business in America don't seem to be crossing the border, at least not yet. Rogers, the national rights holder to the NHL, wants Canadian teams in the playoffs more than Bell does, but that's about the only source of conflict at the upper level. It's not like Bell doesn't want a successful Leafs team, they just want a cost-effective path to success.
Brendan Shanahan
The President of the Leafs has never seemed more secure in his job.
Kyle Dubas
A lot of people have opined about how unfair it is that the GM of the Leafs is entering the playoffs without a contract. He should, goes the argument, have his contract extended based on the regular season performance of the team.
Should, fair, deserves. It's a lot of words that amount to "I approve of him, therefore the Leafs should too". I don't think Shanahan or MLSE disapprove of Dubas or want to replace him, but it shouldn't surprise anyone that the company whose fortunes rise and fall on playoff revenue would really like to see more than seven games in the post season.
I don't mean this as the reductive "it's a results business" truism. I mean that while the playoff exits are unique events, aren't a pattern, aren't meaningfully linked by cause, and aren't from some curse to you personally so you can be the most hard-done-by sports fan in the world – Dubas bears ultimate responsibility.
Don't feel sorry for this man or worry about what he deserves – he chose this path. He linked himself inexorably to Sheldon Keefe and to his core players. "We can and we will," wasn't just a stirring announcement of his faith in those players, it was Kyle Dubas putting all his chips in on Blue. He has to get something for that bet. He has to prove he has a successful team building process. His deadline deals have to pay out. The regular season has to produce a playoff team that really looks like a contender.
Does that mean if Tampa rolls the Leafs, he's done? Not necessarily, but I'd like to see you explain it to the CEO of Rogers why he shouldn't give a management change serious consideration. How many playoff exits like that travesty vs the Canadiens can one GM weather? Last year was the mulligan. This year needs results of a more tangible kind.
Hockey Ops
The Leafs have a lot of brass plaques on a lot of doors, but they also seem to have a system that works, at least as far as development goes. The Growlers and the Marlies are top teams, which is tricky when draft picks keep getting traded away.
The organizational strength of the Leafs is using their money to compensate for the usual detriments to being a long-term contender with no top prospects in the system. All of that machinery of minor pro hockey development ends up producing some depth players, and every once in a very long while, an overlooked gem who is more than a fourth-line spot-filler.
Given that massive effort for a very small chance of meaningful reward, I think it's uncharacteristic of the team and a mark against Kyle Dubas that it took them this long to even begin to modernize the goalie coaching.
A popular truism is that Dubas drafts better than, well, virtually everyone. And this is impossible to know at this time. There's no obvious signs of big failures, no clear weaknesses, but a real measure of his record will come years from now. But the professional scouting that turns up players like Noel Acciari, Calle Järnkrok, Michael Bunting and many others has been the thing most responsible for team success while the Pandemic flat cap made every team into bargain hunters. The Leafs, it should be said, made themselves into bargain hunters on purpose. The Pandemic is a thin excuse for the salary structure.
Sheldon Keefe
He is neither as bad as his detractors would have you believe, nor as great as his fans claim him to be. He's likely an above-average coach, but not by a lot. It's hard to judge someone who has never coached any other team in the NHL and has never coached the Leafs when they were tanking or just emerging from that bad year.
His public statements about what has gone right or wrong during gameplay nearly always ring true to me. I think his player evaluation is fine. While I do think he tends towards some mind games at times, it's no more than any other coach indulges in. He's not afraid to tell the big boys on the team when they're bad – which is not a universal trait in the NHL. He also shows signs of genuinely grasping the random nature of hockey results and he's not too quick to make changes as a response to individual events.
But, the big caveat on all of that has always been that he seems to diagnose the problems really well and never finds the solution to fix them. Sometimes that's because the solution needs to be a different player that the team can't afford. Sometimes it's the player performance. He's the coach, though, so like Dubas, he has to bear some responsibility for the problems that persist.
The Team
They're a genuinely excellent team. The goaltending concept is working, and the defending on the team is much improved. The non-core players they have heading into the playoffs are likely the best they've ever had in aggregate. And none of that matters very much.
I believe in the strong-link theory of hockey which says the best players on your team determine game outcomes, not the aggregate of the depth. I don't think you can just have strong links that drive the team success, and the Bruins are the excellent example of a strong-link system that's backed by good systems and tolerable depth. They win for reasons well beyond the hot goalie. But their hot goalie matters because of their top four or five skaters.
Auston Matthews has to play excellent hockey all playoffs long. So do the rest of the core. That's the key to success for the Leafs. Noel Acciari, one of the smartest hitters I've ever seen play, can't forecheck the Cup into his hands. The third line left wing is not the one key player who needs to step up. Matthews is. That's it. That's what the Leafs need to succeed, their best players playing at their best.