The WHL has been underway for close to 10 games now for some teams. And there have been a few players that have jumped out to me as early breakout candidates, including some that weren't even on my radar at all to start the season.
A couple of them I mentioned in previous watch lists as potential breakouts who have lived up to the hype. They're more likely to have first rounder hype, while the others will have to maintain their high (or higher) level of play through the season to catapult themselves into consideration for a late first, more likely second/third round rankings.
So let's talk about five of the bigger breakouts so far in the WHL this year.
Terik Parascak
Parascak is a 5'11" 179 lb winger playing on Prince George. He was a 4th round pick in the WHL draft back in 2021. He's never played in any international tournament, and this is his first full season in the WHL – he only played in four games last year. He did, however, finish second in the CSSHL U18 league last season behind only Gavin McKenna who is the latest prospect to be given exceptional status to play in the CHL as a 15 year old with a December birthday no less. So while he hasn't had a lot of hype as a prospect, he has a history of good production.
As of writing this, Parascak is second in the WHL in scoring with 18 points in only 9 games. You would assume that a torrid pace like that is down to some luck, and to some extent that's probably true – he has 12 goals, and the second most shots on goal (46) in that time. A 26% shooting percentage is not even that unsustainable for junior. Even if its still likely to have at least a bit of regression, the good thing is that he is both shooting a lot but also from good locations.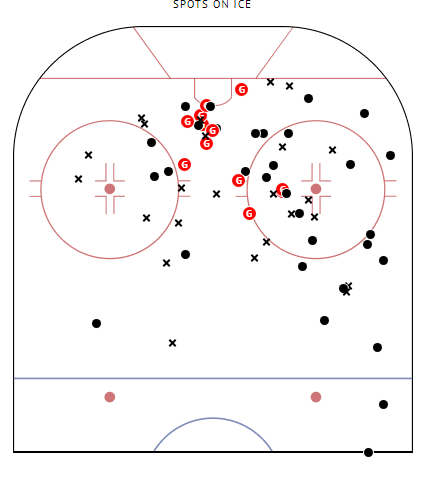 Cayden Lindstrom
Lindstrom is someone I mentioned on the first watch list of the year, back in July. I didn't write any profile or provide any info of him, aside from him being in a list of forwards who had some hype coming into this season. He was eventually listed on Bob McKenzie's first rankings of the 2024 draft year, but as an honourable mention outside of the top 16.
It's easy to see why he has some hype. Lindstrom is a 6'5" centre who has some experience with Team Canada last year. He was only a 3rd round pick in the WHL, but he's had some very strong seasons since then. He played a full year in the WHL last year and put up 42 points in 61 games, and added 4 points in 7 games for Canada at the U17 WHC. So far this season, he has 4 goals and 5 assists in 7 games for Medicine Hat, plus 25 shots and winning 61% of faceoffs. He has size, position and point production to make him a likely first rounder, but time will tell how high he winds up.
Tij Iginla
Tij Iginla is also someone I mentioned and mini-profiled in the early season watch list, but mostly because he is the son of Jerome Iginla. Since then I've had a chance to see him a bit on Kelowna, who he was traded to after starting his WHL career on Seattle. Iginla was a 9th overall pick, and has grown to a 6'0" center/winger.
New Iggy is playing on the top line for Kelowna alongside Andrew Cristall, one of the more skilled and productive forwards in the league last year. And so far, Iggy is second on the team in points (10) and first in goals (7) in just 6 games. He's averaging more than 4 shots per game, has won 48% of his faceoffs while moving between the wing and center, and isn't just riding shotgun to better players. He's driving things on his own so far.
Diego Buttazzoni
Aside from having an A+ name, Buttazzoni is an early season favourite of mine for an archetype that I always love. He's smallish (5'9"), but he can absolutely rip it. He was good enough to play a full WHL season already last year, and while 15 points in 56 games may not seem great he was playing a lesser role on Portland – one of the stronger and deeper teams in the league.
As a former second round pick in the WHL, he's another center/winger tweener. He was a bottom six center last year, winning 56% of faceoffs. This year, he's been bumped up to the top line on the wing but is being used as the secondary faceoff guy. After co-leading the WHL in the pre-season with 11 points in 5 games, he's off to a strong start with 5 goals and 8 points in 5 games in the regular season. You can see in the clips above, his goals are no cheapies. When he shoots and scores it's with authority – whether it's a wrist, snap or slapshot.
Miles Cooper
Miles Cooper (5'11", August birthday) is in a different position as the others. He was not a very high draft pick in the WHL (3rd round), he didn't have an elite statistical profile in previous levels but just pretty good, and he didn't have a great pre-season to hint at a breakout. But so far, playing as the third line center for the Wenachtee Wild, he's been an under the radar hit so far. I haven't watched a lot of his games yet, but I've liked the bits I have seen. He was a "glitter" guy that I first noticed when watching a game vs Parascak.
Wenachtee is a pretty deep team, even if Zach Benson is still with the Buffalo Sabres. Cooper has 2 goals and 9 points in 8 games. That's not super great compared to some others, but he has a few things going for him. First, none of his points are on the powerplay and he has gotten very little PP time — 8 of his 9 points are at even strength, with one coming short handed. In fact, from the bits I've seen he's looked like a real nifty penalty killer, and has had a couple of breakaways that were stopped. Second, even though 7 of his points are assists only one is a secondary assist, so he has been the primary set up man a lot. And that secondary assist came off a nice play where he forced a turnover in the neutral zone to create an odd man rush. He is someone I want to keep an eye on who could be a late riser in this draft if he eventually earns more minutes higher in the lineup and more PP time.