So I didn't really set out to do this, but after writing the profiles for Simashev, Willander and now Molendyk I realized I picked three defensemen that fit the type I like a lot. I talked in each of their profiles about it, but they're basically very strong skaters, good at defense right now, and have room to develop an offensive game that doesn't exist much or isn't consistent. But I also wrote about them in descending order of height and maybe offensive potential (I waffle between Willander and Simashev for that).
They also played their draft years in three different situations: Simashev between Russia's junior and pro league, Willander in Sweden, and Molendyk in the WHL. I'll try not to repeat myself too much when talking about why I like Molendyk, because there will be much of the same reasons why I said I like the other two.
But that doesn't mean he's the exact same as the others.
THE BASICS: STATS AND CONTEXT
Position: Left shot defense
League(s): WHL
Height: 5'11"
Weight: 181 lbs
Birthdate: February 3rd, 2005
Here are his draft rankings, as of writing this:
Bob McKenzie: 62nd
Scott Wheeler: 42nd
Elite Prospects: 39th
Dobber Prospects: 49th
Smaht Scouting: 37th
Future Considerations: 28th
Tanner Molendyk has always had some hype behind him. He was drafted 5th overall into the WHL back in 2020, and has played for Saskatoon since he was 15 years old in some capacity. This year he started as one of Canada's top defensemen on their historically strong Hlinka Gretzky championship roster – with 4 points in 5 games.
Molendyk then returned to Saskatoon for the start of their season, where he anchored their top unit at even strength and played in all situations. He played on their top pair at even strength, he quarterbacked the second powerplay unit, and he killed a lot of penalties. He had a career best 37 points in 67 games, then added 8 points in 18 playoff games. Only 1 of his 9 goals, and 10 of his 37 points came on the powerplay. You can see in the tracking data visual above that he had elite impacts on the ice in every way you can think of, relative to other CHL prospects.
Molendyk has been on my radar all year, back from the Hlinka Gretzky tournament last summer. It's not that common for a prospect to stay in my mind at around the same level from start to finish in their draft year, but he has been it. He's never been my favourite defensemen in this draft, but he's been in the top 5 for me all year.
Let's talk about why.
THE GOOD: SKATING AND TWO-WAY POTENTIAL
The biggest strength of Molendyk's game is his skating. He is up there with the likes of Willander and Simashev, and may in fact be a bit better at this point. The way his skating has an actual impact on the ice – to this point – has mostly been on the defensive side. He is very impressive already at defending his blueline, according to Elite Prospects scout Mitch Brown:
Molendyk doesn't get beat off the rush. Two seasons ago, he stopped an impressive 52 percent of rushes against, getting a clean break up on 25 percent. Last season, those rose to 65 and 48 percent, respectively, both top 15 marks in the last five seasons, even after adjusting for his team.
This year, Molendyk's up to 77 and 67 percent. If it holds, he'll be the best rush defender in a data set that features every notable CHL and NTDP defenceman since 2017.
That was written back in October, very early in the season. The general trend held for the whole season, though I don't know if those percentages maintained the same extremely high level. Point is, Molendyk is already very good on transitions. He uses his skating to be aggressive in how he manages the gap between himself and his puck carrier. He is very mobile skating backward and making horizontal pivots as needed. He is very effective at angling the puck carrier where he wants them to go, and if they try to get around him another way he can easily shut that down.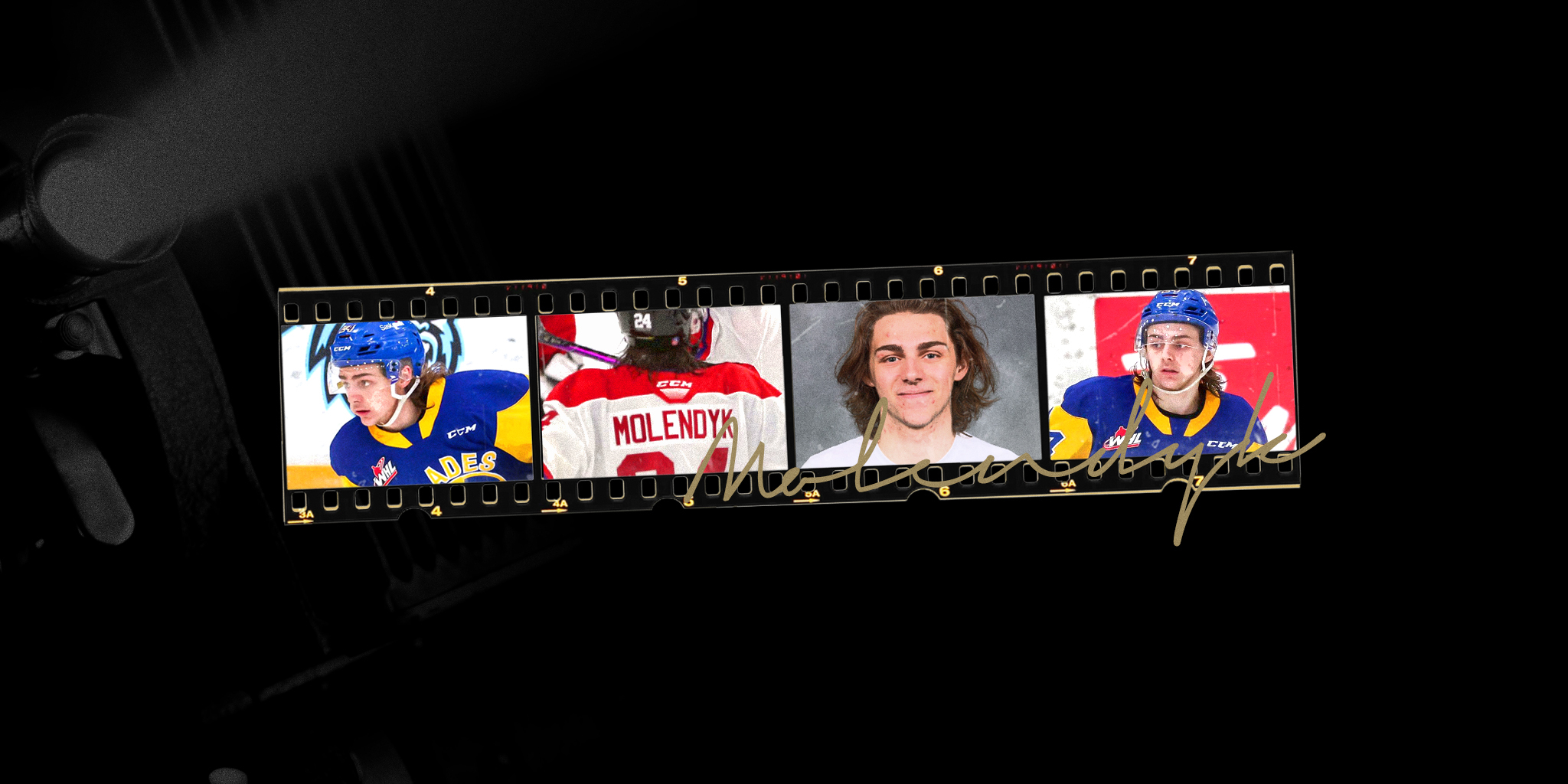 Best of all, when he steals a puck or causes a turnover, he is also able to use his skating and passing to turn it back up the ice for a quick counter rush. He is not especially dynamic with his puck carrying, passing or playmaking, but he can make the simple plays to move it accurately and effectively. Here are some examples:
I've talked before about how I don't really care if a defenseman has high end offensive skill, at least when it comes to putting up a lot of points. For me, I want them to be good at moving the puck up the ice and into the offensive zone, then making smart plays at the point to keep the offense going. The last skill I care about is having a big shot. Just get it to the forwards who are, usually, the more talented scorers and offensive producers.
Molendyk does just that, with maybe a hint at having higher level offensive skills. His skating is, again, the driving force behind his offensive potential. He is okay as a distributor and play maker – his potential lies in where his skating can get him. He could learn some lessons from the like of Denton Mateychuk or Topi Niemelä when it comes to activating. Use things like give and go's, look for soft areas on the ice to get to where you can get open for a more dangerous shot, look for opportunities to jump deeper into the offensive zone where a dangerous scoring chance could materialize. That's what unlocked Niemelä's offensive production explosion last year.
Check out this play from Tanner Molendyk on the blueline. Pivots and then punches laterally to turn the pressure pusher's momentum against him. With three defenders focused, he takes a high slot shot, allowing a teammate to jump on the rebound unimpeded. #2023NHLDraft pic.twitter.com/l2q72WbonB

— Daniel Gee (@DanielGScouting) February 8, 2023
There are signs that Molendyk can do that, he just doesn't do it consistently – not yet, at least. You can see in his tracking data that he has a pretty high expected goals for his shot attempts, that comes mostly from him doing some of the above. But he doesn't do it consistently, though that may be because he plays a bit safe and mostly focused on his defense. That is more of the playing style that Saskatoon plays, and he is still a pretty young defenseman for his role.
Tanner Molendyk wants in on the highlight reel. What a beauty #2023NHLDraft pic.twitter.com/AHLvm9EBf8

— Spoked Z (@SpokedZ) January 14, 2023
THE FLAWS: OFFENSIVE UPSIDE AND PROJECTION
There were definite stretches this season where you were really wanting a lot more from Molendyk when it comes to driving play offensively. I watched a fair amount of Saskatoon this year, as I was watching Lisowsky. He was always consistently at a high level defensively, but he would almost disappear for games in a row on the other side of the puck. It was frustrating, because you would see his flashes where he would be more assertive and involved in the offense so you knew he was capable of it.
And that limits his overall projection for the future. I would say that Molendyk fits a similar profile type as Simashev and Willander, but I definitely don't think his projectability is as high. His offensive consistency is lower, and the flashes he shows don't look as high level. His passing and playmaking, in particular, are areas where I just don't see as being much better than simple and effective. His biggest area for potential comes with using his skating to make himself the dynamic, dangerous offensive contributor through activating and carrying the puck.
Overall, while Molendyk has exciting tools around his skating, he feels like he doesn't have as much room to develop more as the others. He's not likely to get much bigger, and he's already pretty filled out for his height (even Niemelä is lighter than him and he's three years older). He can work with development coaches to try and improve his shot mechanics, but again... shots from a defenseman is not a high priority for me. It would be great if he could develop more dynamic passing, but that seems like something that is harder to develop if he doesn't already have it.
OVERALL ASSESSMENT
I will be curious how his rankings change in Bob McKenzie's final edition before the draft. I get the impression his rankings to date have been a bit this year because people keep expecting him to have more of an offensive breakout that never came. He doesn't have a huge playoff run – where he was still good, mind you – or a big international tournament that gets a lot of eyes and hype for those who perform well. He did have a very good Hlinka tournament, and got some hype from that, but it was so early in this year's scouting cycle that any positives he had from that have faded while others grew.
All of that said, I still really like Molendyk as a prospect. I think there is potential and projection there, but not as much around big improvements to his physical state or abilities. I think it will come more from his decision making and confidence to use his physical tools to have a bigger impact in other areas on the ice. But I've seen that already from Topi Niemelä, and I love Topi Niemelä. I believe the right team and coaching can unlock that in him too.
While I would not take Molendyk straight up with the 28th overall pick, I like him as a trade down candidate. Most scouting outlets have him pretty consistently as a second rounder, even in the second half of it. While I don't like him as much as some other defensemen prospects in this draft, I think he could make for a very solid second round pick. If Toronto gets to 28 and all the others they liked in that range are already off the board, I think you can trade down to get Molendyk and someone else they like in the second/third round and be very happy.
Thanks for reading!
I put a lot of work into my prospect articles here, both for the draft and Toronto's prospects. I do it as a fun hobby for me, and I'd probably do it in some capacity even if PPP completely ceased to exist. But if you like reading my work, some support would go a long way! I pay for a few streaming services (CHL, some NCAA, some USHL, the occasional TSN options for international tournaments that are broadcast) to be able to reliably watch these prospects in good quality streams. I also pay for some prospect-specific resources, such as tracking data and scouting reports from outlets like Elite Prospects, Future Considerations, McKeen's Hockey, and The Athletic.
Being able to get paid for this helps me dedicate more time and resources to it, rather than to second/third jobs. And whatever money I make here, a lot of I reinvest back into my prospect work through in those streaming and scouting services. Like I said, I'd be doing whatever I can afford for this anyway, so any financial help I get through this is greatly appreciated!
PPP Leafs Runs on Your Subscriptions
Consider making a commitment today.
Support PPP