Sweden at Finland
Finland took the game 3-2 in overtime, but the score paints a picture of more evenly matched teams than they were in reality.
The early part of the game was a low-shooting affair as both sides struggled to get offensive zone time. In the first period Leo Komarov, Erik Haula and Lauri Korpikoski were the only line for Finland getting near the Swedish net. They couldn't keep that up, however, and finished the game with some poor results.
The Swedes were having a similar struggle, and their biggest difficulty all game was that the top line of the Sedins and Loui Eriksson were just no match for the Finnish defensive systems.
Finland shared their grief with an ineffective top line of Aleksander Barkov, Patrik Laine and Jussi Jokinen struggling mightily at five on five. Barkov opened the scoring on a power play goal in the second period while Gabriel Landeskog was sitting for a very undisciplined cross-checking penalty.
Landeskog, meanwhile, was excellent for Sweden with teammate Carl Soderberg and Rickard Rakell, playing a kind of stealthy fourth line that was used more like a second line. Coach Rikard Gronborg had them out in mostly offensive situations, and they did well, producing a good defensive result the old fashioned way: by spending all their time in the offensive zone.
Filip Forsberg and Niklas Backstrom were the true dominating offensive players on the ice.
That Barkov goal welcomed Jhonas Enroth into the game as he took over for Jacob Markstrom halfway in. Loui Eriksson tied it up a few minutes later with a puck that bounced in off Pekka Rinne's butt.
Carl Soderberg got Sweden the lead in the third period on another goal from Rakell and Landeskog that didn't make Rinne look very good, but Mikael Granlund tied it up for Finland after a terrible Rakell giveaway, making his line two for two on bad plays leading to goals. Enroth didn't look like he had good positioning on that one.
Granlund game-tying goal pic.twitter.com/dPnaI7HYx0

— Stephanie (@myregularface) 8 September 2016
Sweden absolutely dominated the three-on-three overtime, with the much practised and adept Erik Karlsson showing everyone how it was done. Ottawa spent a lot of time in overtime last year, and Karlsson is the master at it. But it was Olli Maatta who got the game winner in the only scoring chance the Finns had in overtime.
None of the goalies looked very sharp, although Markstrom at least managed a shutout on about 10 shots on goal.
Many of the players looked rusty and just getting used to their linemates, but overall Sweden dominated the game, more so as it went on, while the Finns took advantage of the opportunities they were handed.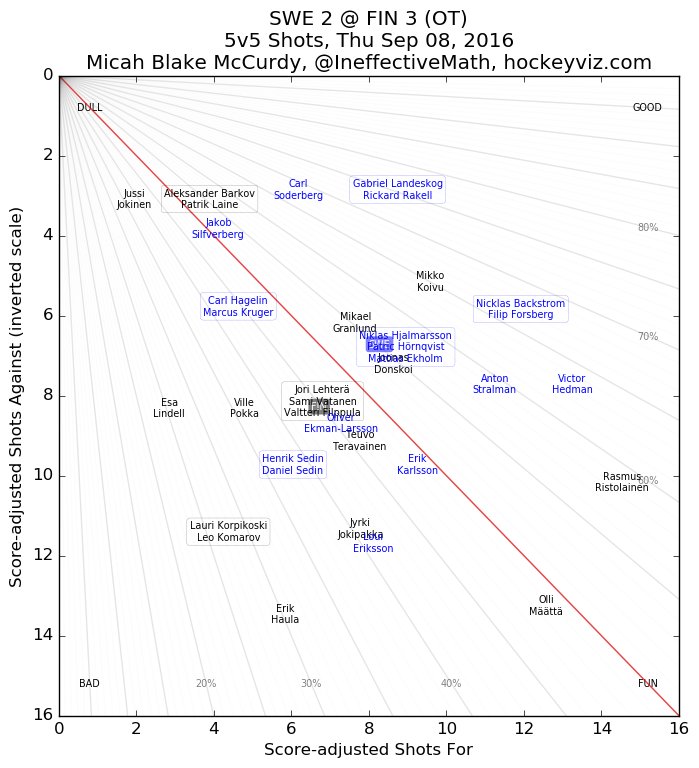 Czech Republic at Russia
Russia won this game as expected 4-3, but it was one of those games that if it had gone ten minutes longer, might have gone to the Czechs.
Rust was the name of the game for Leafs' defender Nikita Zaitsev playing on the top pairing. He was occasionally effective and exciting, but he was also occasionally ineffective and slow off the mark defensively. He was on the ice for the first Czech goal, scored by new Chicago signing Michal Kempney, and he was not great for most of the game.
The Czech lead didn't last long with Artemi Panarin tying it up in the first, and then Vladimir Tarasenko and Nikita Kucherov making it seem like the game was over in the second.
Martin Hanzal scored for the Czechs, Panarin's linemate Evgeny Dadanov answered back and then this amazing thing happened. Roman Polak let off a great shot that Tomas Plekanec deflected in the net. Polak was modestly successful offensively, terrible defensively as usual, and that one moment was his only bit of glory in the game.
The Czechs poured on the pressure after that goal, but Sergei Bobrovsky saved his best goaltending for the last few minutes of the game.
Milan Michalek played an unremarkable game, with Ondrej Palat the only truly outstanding offensive player for the Czech team.
Just as in the other game, both teams' top lines were largely ineffective, with others providing the spark that kept the game exciting.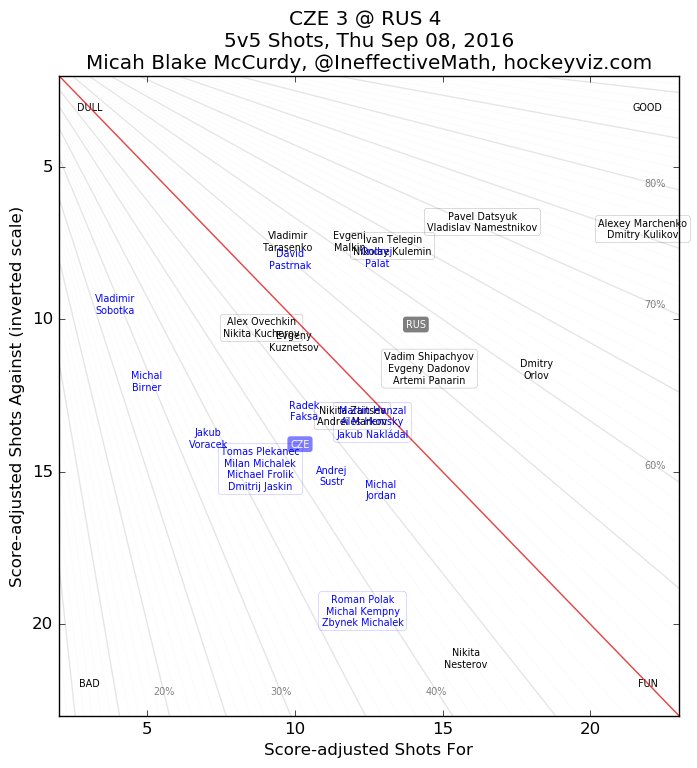 North America at Europe
This game happened too late for Katya to write her usual fine summary, so here is the collected wisdom from the hive mind at PPP. The game ended 4-0 in favor of Team Coherent Group Identity, and we speculate that Freddy is probably just as happy to be watching it from his comfy couch in Denmark.
Brigstew: Matthews good. Chara bad.
Pumpedtires: Two periods in its kind of how you'd expect a preseason game between U23 superstars and a bunch of mostly just ok NHL vets would go. The kids are flying. The vets are a few weeks away from top speed. It's sloppy. It's fun.
IceDesert: [Interesting words from Buccigross:] "What Team Europe needs to do is FIND a style of play. Team North America isn't cheating to keep ahead in this game. They are playing within the flavor of the game."
Annie: The kids are so fast and skilled that any sloppiness is almost cute, rather than 'what are you doooooooooooing?' It's fun as hell. Might not hold up against a team that doesn't let them blaze right through the neutral zone, but… [also] Zdeno Chara was kind enough to give Ryan Nugent-Hopkins an assist on his goal.
Species: Has any Team EU player made any pass that connected yet?
Annie: Does Chara to RNH count?
IceDesert: I think Kopitar passed it, realized that his guy was going to miss it, and picked the pass up again himself while Team Fake ID was making a line change.
Annie: Poor Kopitar.
Brigstew: I can't really figure out if Team Acne is actually this good or if Team Europe is just… not so good
RC2080: It almost feels like it's Team North America vs Anze Kopitar
Annie: I've been waffling on this all game.
Acha: so that was ... not good.
Katya: Yeah, well, both teams got better, which is what a tuneup is for. But no that was not good hockey.
Species: I am so glad I did not pay $100 to see that in person.
Katya: Although, Matt Murray was the best goalie on the day today, and not just because shutout.
Tune in tomorrow for more recaps of the Wacky and Wonderful World Cup of Hockey!